2023 DGPT – Des Moines Challenge Final Recap
Monday, June 26, 2023 – 08:41
Gannon Buhr throws Sunday at the 2023 TruBank Des Moines Challenge. Photos: Kevin Huver / DGPT
After multiple weather delays during the FPO division's second round of the
2023 TruBank Des Moines Challenge
, the DGPT suspended play on Saturday in accordance with its weather policies.
On Sunday, FPO players resumed Round 2 from their previous lies and immediately started Round 3 once scores were tallied. Since most MPO competitors had not started their second round on Saturday, the MPO tournament was shortened to two rounds.
With one last day at Pickard Park, the FPO field saw a repeat winner and the MPO field saw an Iowa native take down the win.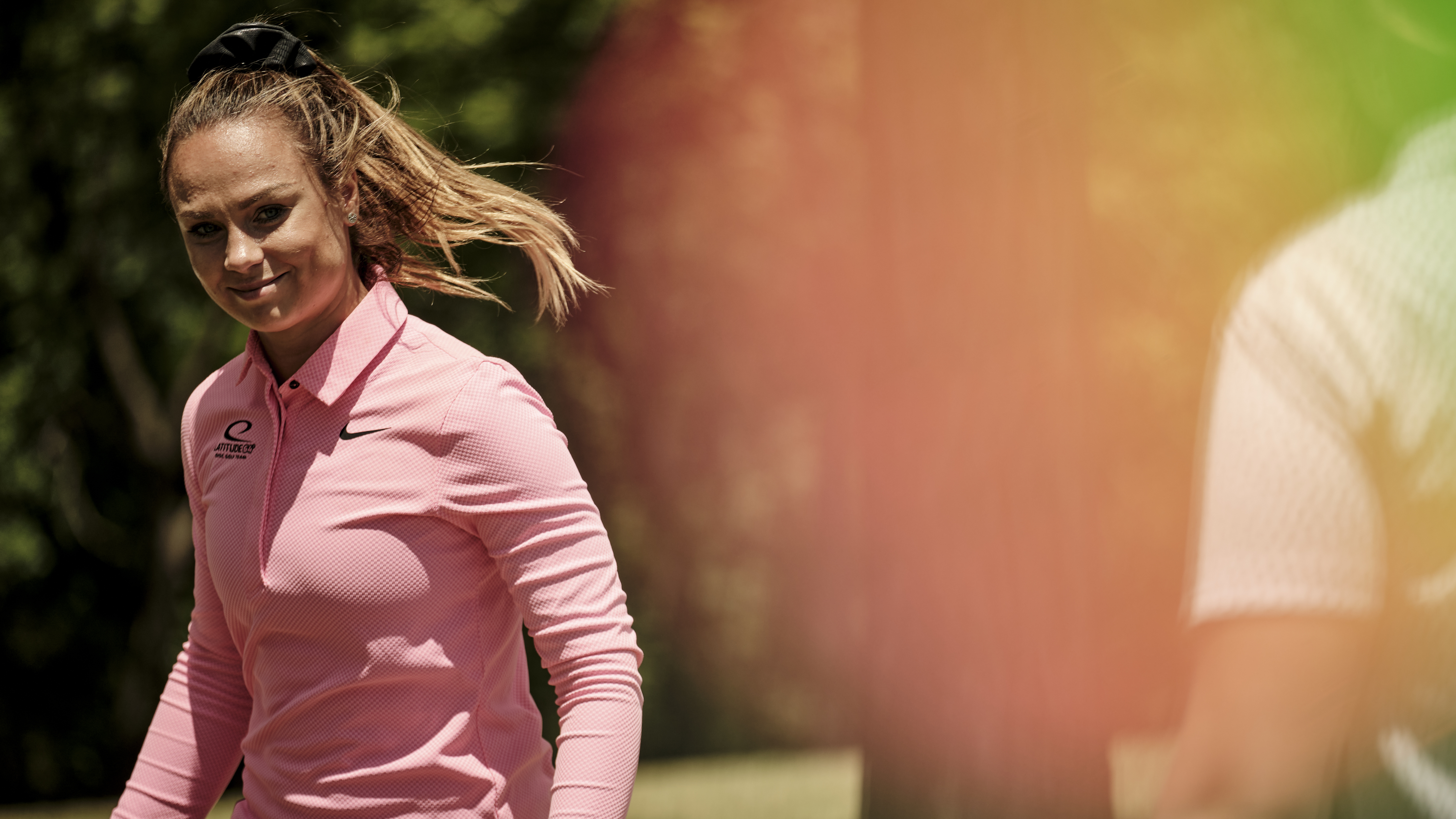 Kristin Tattar during the final round in Des Moines. Photo: Kevin Huver / DGPT
Repeat Champ
The FPO field had an early start on Sunday as they picked up where they left off in Round 2 the day before. After finishing out the second round, Kristin Tattar held onto her lead at 11 strokes under par while Missy Gannon followed close behind at 8-under. After shooting the hot round in Round 2, Stacie Rawnsley made her first lead card appearance at an Elite Series event as she started the final round tied for 3rd place with Macie Velediaz and Paige Pierce.
Conditions were rough during the final round as gusty winds ripped close to 20mph. While the FPO field averaged less than half a stroke over par on Friday, the final round averaged more than five strokes over par. Hole 18 in particular was not birdied by any player in the field.
Tattar had a rough start to her round after bogeying Hole 2 and going out of bounds two holes in a row. Despite the challenges, Tattar was able to turn her game around with back-to-back long putts on Holes 3 and 4.
"I was just angry again, throwing OB and not having a good start to the round. My goal was to just keep it in bounds," Tattar said of trying to maintain her lead in Round 3, "That anger sort of helped me hit those long putts."
Kristin Tattar diligently closes out the final round in Des Moines. Photo: Kevin Huver / DGPT
After her drive skipped off the water and landed in bounds, Tattar scored the only birdie on Hole 4 in the final round. Tattar went on to score six more birdies and avoid any additional bogeys. Tattar led the field with a 57% scramble rate in Round 3 and her ability to keep her scorecard mostly clean kept her at the top. By the end of the day, Tattar had shot the hot round and doubled her lead from three to six strokes.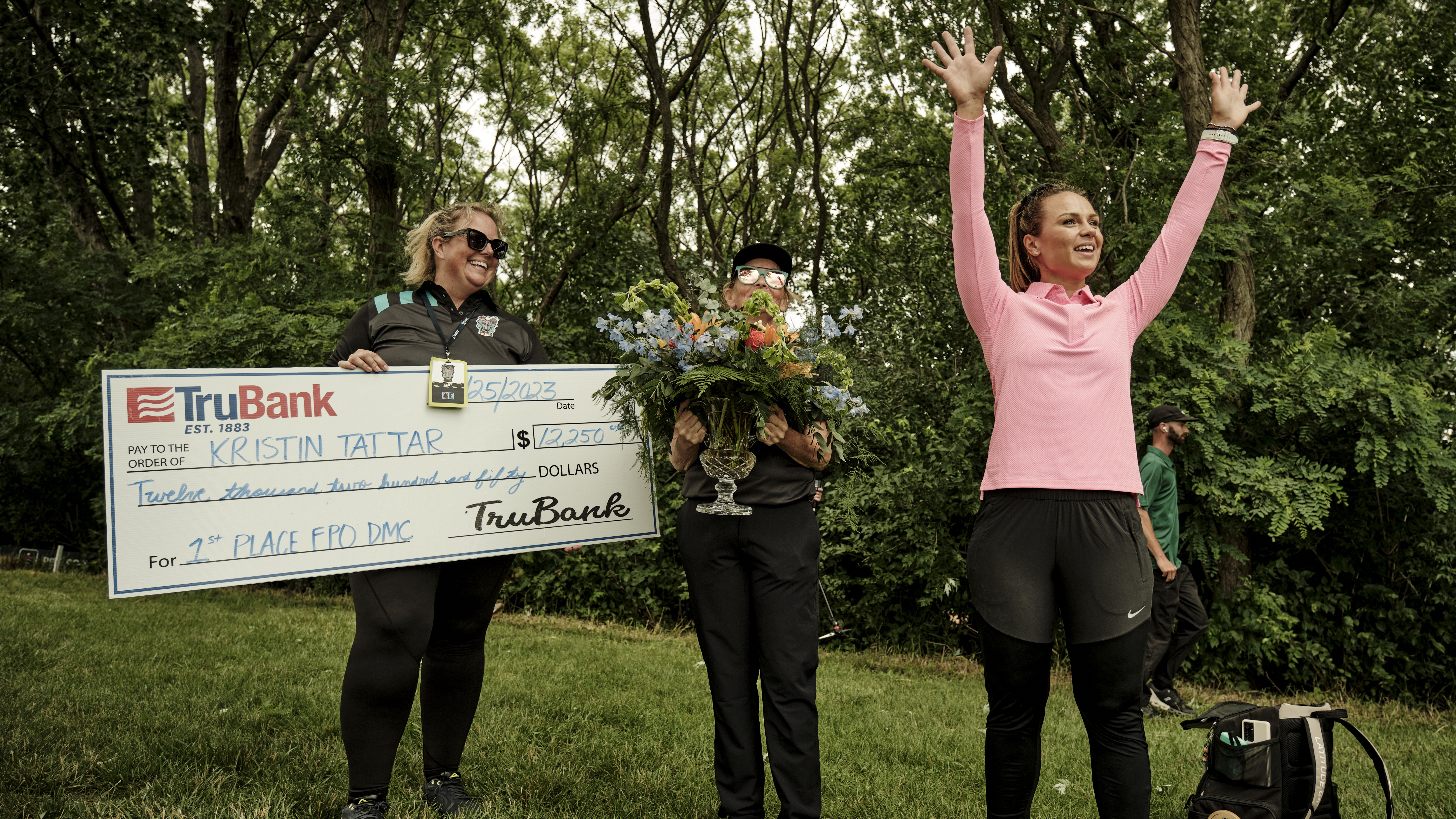 Kristin Tattar celebrates her victory in Des Moines. Photo: Kevin Huver / DGPT
According to StatMando, this is Tattar's 13th hot round in an Elite Series or Major this season, over four times more than the next most in the FPO. With her back-to-back Des Moines Challenge wins, Tattar now has her 4th Elite Series win in 2023 and her 7th win on tour this season.
Missy Gannon wasn't able to catch up to Tattar, but she held onto 2nd place with a three-under final round. Gannon was able to rack up seven birdies, finishing her round with 22% parked and 91% C1X putting according to UDisc. Like most of the field, Gannon took a few bogeys as she fought through the windy conditions.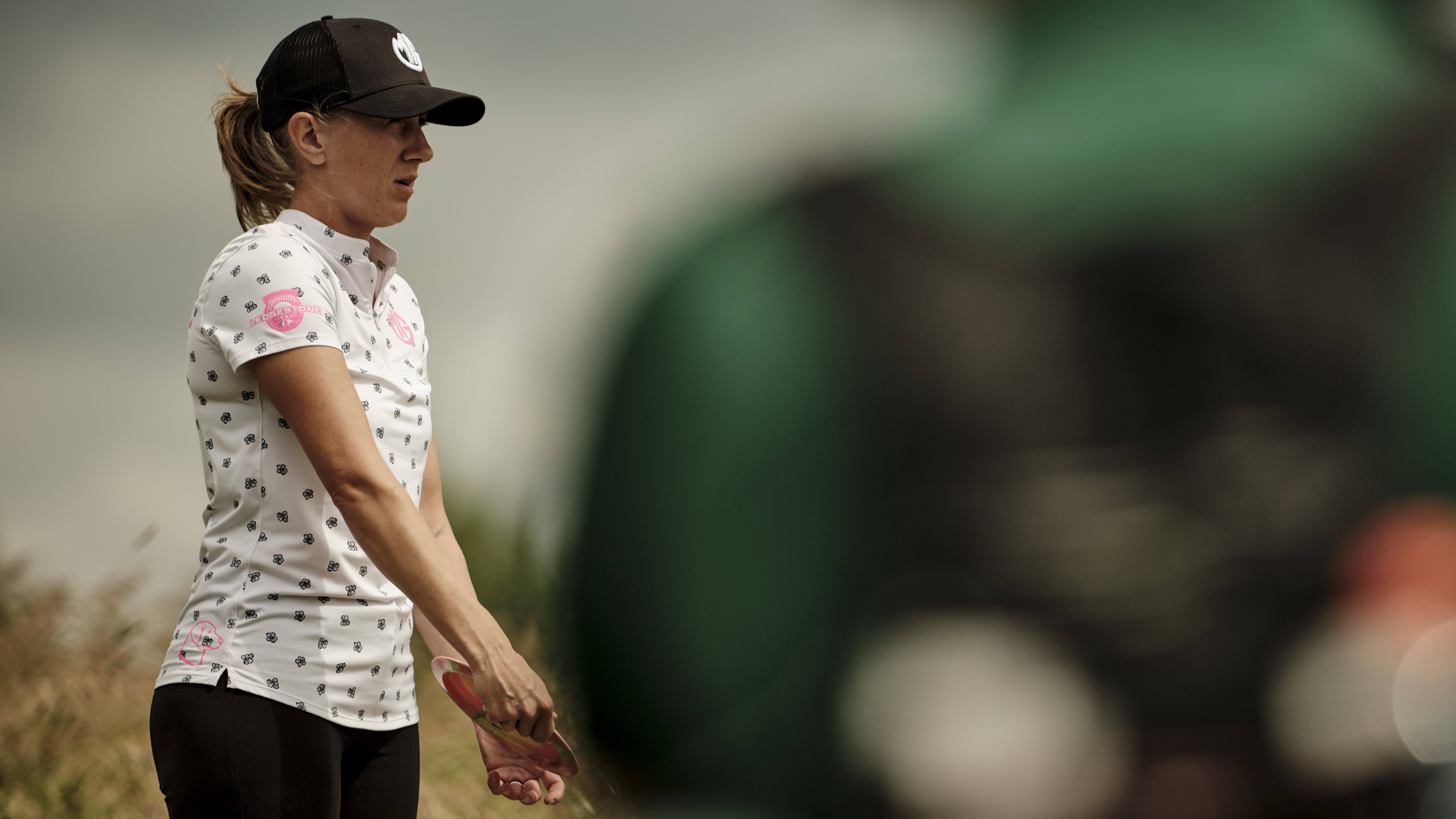 Missy Gannon dials in during the final round in Des Moines. Photo: Kevin Huver / DGPT
"My whole thing is being adaptable so you just have to roll with the punches," Gannon said after shooting the second-best score in the difficult final round, "I think that's a big thing, especially for a day like today. You just have to take what the course is giving you."
With her 2nd place finish at the 2023 DMC, Gannon now has three podium finishes at Elite Series Events this season and her best finish since placing 2nd at the 2023 Las Vegas Challenge.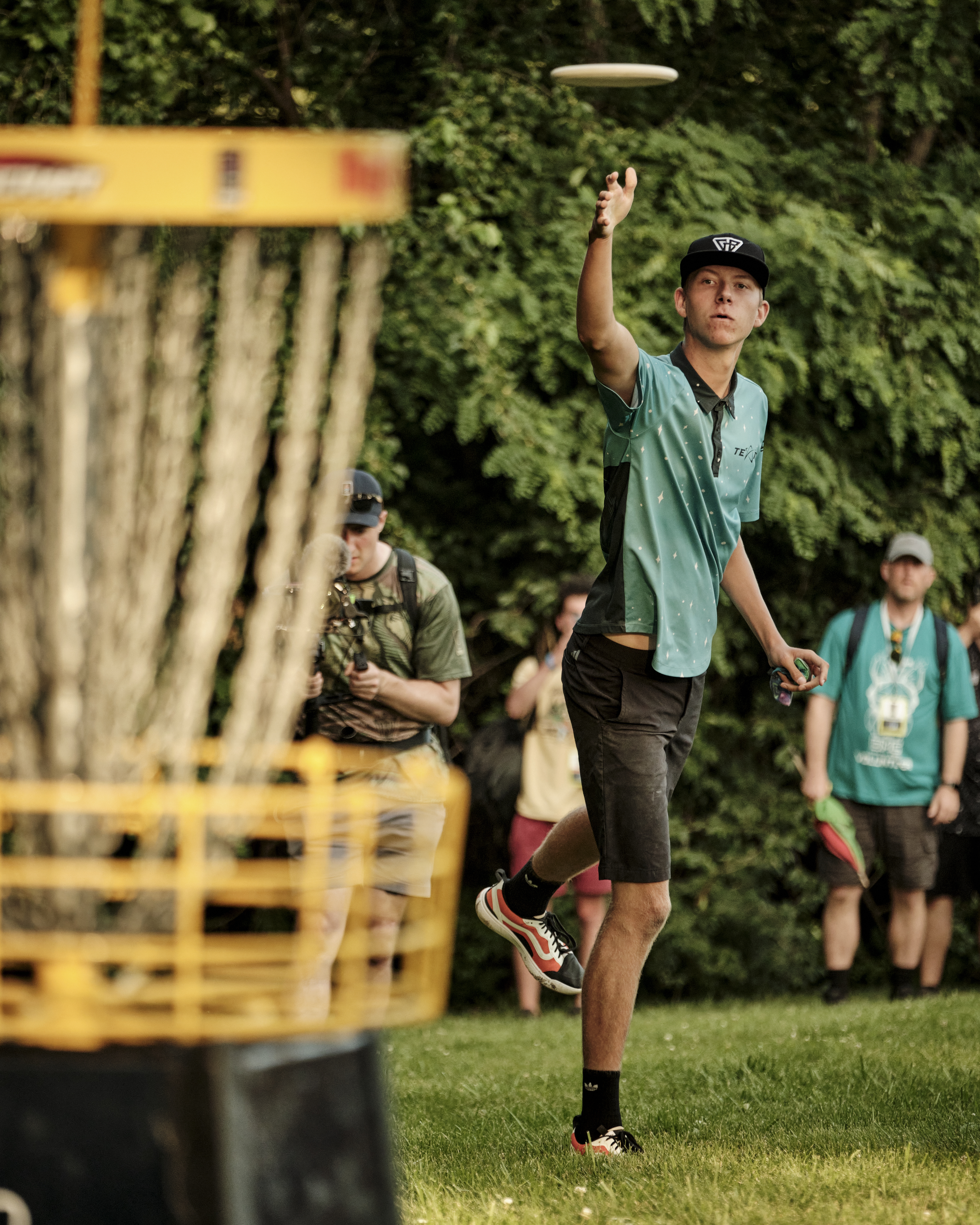 Gannon Buhr aiming to secure his victory during the final round in Des Moines. Photo: Kevin Huver / DGPT
Home State Win
With gusty winds and only one round left to claw their way up the leaderboard, the pressure was on for the second and final round for the MPO field. Players kept fighting through the conditions, trying to stay in bounds and pick up birdies on a day that averaged four strokes harder than their first round. As the lead card made their way to the last few holes, two clear front runners had emerged.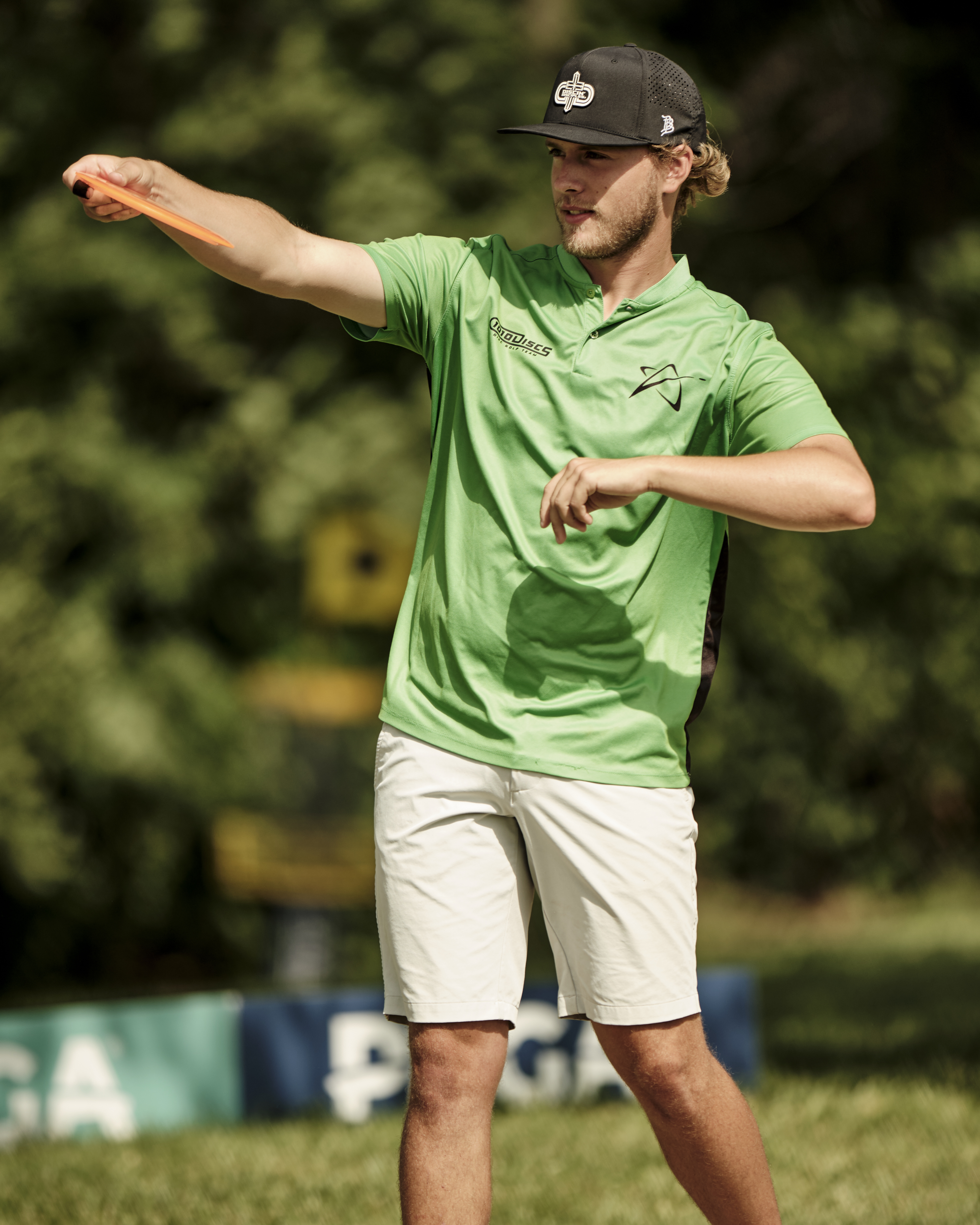 Isaac Robinson focuses during the final round in Des Moines. Photo: Kevin Huver / DGPT
Isaac Robinson started the round in a tie for 10th place but had worked his way up to the lead at 18 strokes under par. As Robinson stepped up to the tee of Hole 18, he knew Gannon Buhr was just two holes behind at 16-under. After Buhr took a birdie on Hole 16, Robinson knew he would have to get aggressive to keep Buhr from catching up. This would be no small feat as Hole 18 played as the second hardest hole on the day. After turning over his approach shot into a headwind, Robinson was left scrambling out of the woods and ended up taking a double bogey.
Now with a one-stroke lead on Robinson, Buhr just needed to take a par on 18 to win the tournament. Buhr's third shot on the par 5 left him outside the circle. While most players would choose to lay up and tap in for the win, Buhr went for it and closed out the round with a birdie putt from circle 2.
With his two-stroke victory over Robinson, Buhr took down an Elite Series win not only in his home state, but on a course he had grown up playing.
"I've been playing Pickard for so long and I've considered it as my favorite course in Iowa," Buhr said after taking down the win.
This whole weekend proved to be a remarkable bounce-back for Buhr after missing the cash line and placing 50th in the Dynamic Discs Open just last weekend.
"Over the last month or so, I've been in a little bit of a backhand slump," Buhr said of feeling pressure to live up to his world ranking, "When my backhand's off, it feels like I can't score at all"
Going into the 2023 DMC, Buhr put in the work to fix his backhand form and regain his confidence. The long hours and late nights paid off as he finished the weekend with 11.39 strokes gained: tee to green along with an impressive 50% Circle 2 putting according to UDisc.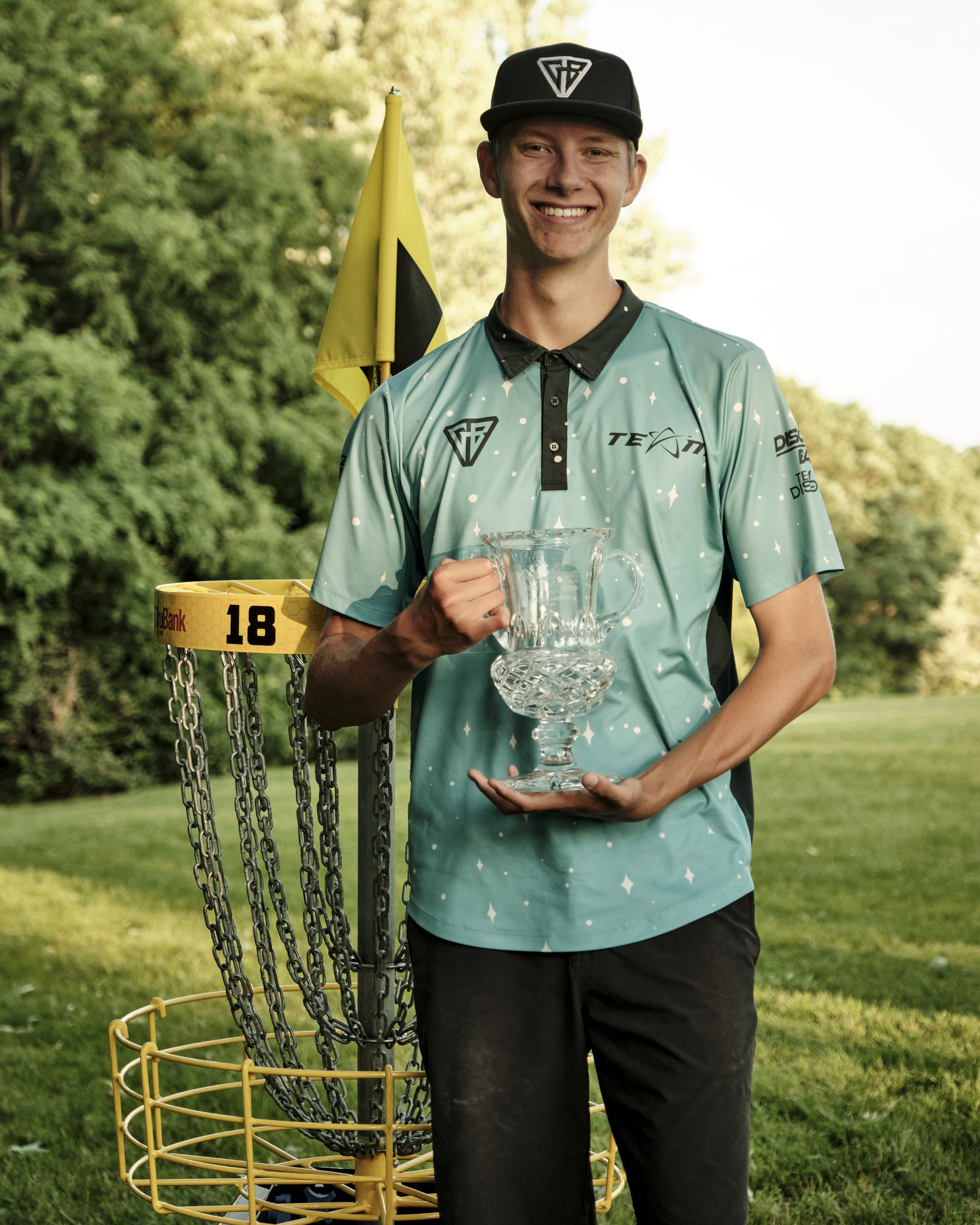 Gannon Buhr celebrates his victory in Des Moines. Photo: Kevin Huver / DGPT
This is Buhr's second Elite Series win this season and his third win on tour in 2023. Combined with his win at the 2022 United States Disc Golf Championship, Buhr is now tied with Simon Lizotte and Calvin Heimburg for most Elite Series/Major wins in the last 365 days.
Up next, the Disc Golf Pro Tour will head to Clearwater, Minnesota for The Preserve Championship powered by Prodigy Disc.