2023 DGPT – OTB Open Round 1 Recap
Saturday, May 13, 2023 – 08:15
The FPO and MPO fields hit the ground running in Round 1 of the 2023 OTB Open with a four-person tie in the FPO field and 1st place in the MPO field sitting on a one-stroke lead. Despite the hot scores at the top of the leaderboard, Swenson Park played over par for both fields with every player in the FPO field taking at least one bogey. While the FPO field saw the return of last year's champ, the MPO field saw the continued momentum of a recent champ.
Tied at the Top in FPO
In a year filled with tight leaderboards, the FPO field outdid themselves with four players tied for first at the end of Round 1 at the 2023 OTB Open. According to StatMando, this is the most players tied for the lead after any FPO Major or Elite round since a six-person tie at the 2019 Memorial Championship. Paige Pierce, Ohn Scoggins, Emily Beach, and Ella Hansen will go into Moving Day tied for first at seven strokes under par.
Pierce, the defending OTB Champion, had a slow start to her round but went on to birdie holes 15 through 18 to catch up to the hot round set by Beach earlier in the day. Pierce is the only FPO player to win the OTB Open since its start in 2021 but there was some speculation as to whether or not she would be able to compete this weekend. After the PDGA Champions Cup, Pierce skipped the Jonesboro Open to focus on working through an injury.
When asked about her current condition, Pierce described it as, "Zero pain. I think it's actually less likely that I would feel it in the tournament round than in practice because I'm throwing multiple shots per hole in practice."
The opening round saw a return to form for Pierce, who scored eight birdies and only one bogey, with an impressive 6.11 shots gained tee to green according to UDisc.
"I feel good, but I do think I can shoot hotter," Pierce said after the opening round, "I'm excited to give it another crack tomorrow."
Scoggins is no stranger to the top of the leaderboard with multiple top ten finishes so far in 2023 and having won the 2023 Santa Cruz Masters Cup last weekend. In particular, Scoggins feels that the course updates have worked in her favor.
"I just feel like the course was changed in a very good way for all of us and a lot of holes are good for my sidearm," Scoggins said after sharing the hot round, "I play smart."
Scoggins will share the Round 2 lead card with three distance throwers but isn't known for distance herself. Instead, Scoggins relies on a different skillset that features a powerful sidearm and aggressive putting (including two circle 2 makes in Round 1).
Hansen and Beach are each seeking their first Elite Series win, with Hansen placing 4th and Beach placing 11th at the 2022 OTB Open. Hansen has more experience on the lead card, taking 2nd place earlier in the season at the 2023 Waco Annual Charity Open.
We'll see if any FPO players can pull away from the pack or if there will be yet another tie after Round 2 of the 2023 OTB Open.
The Rise of Robinson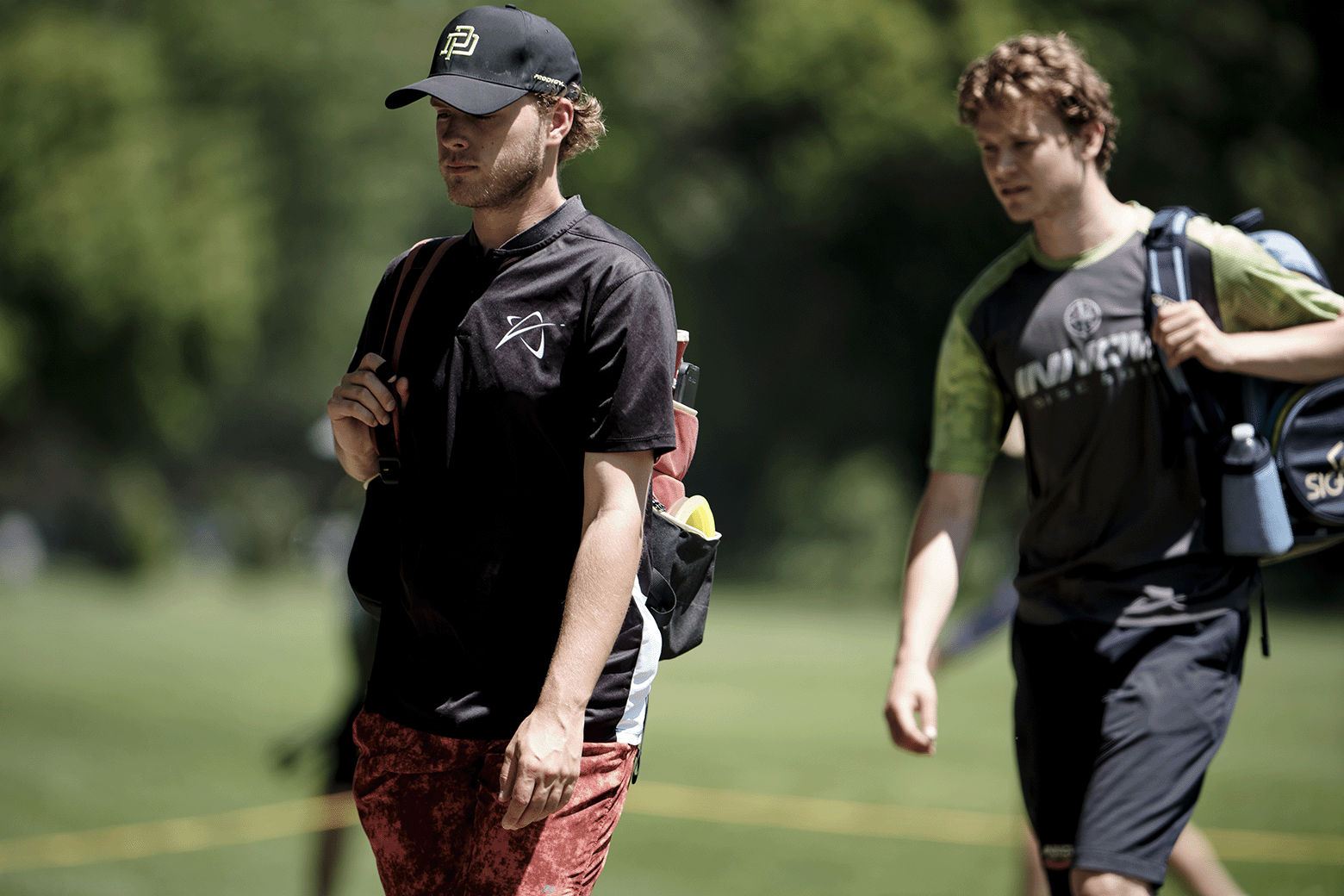 By this point in the 2023 season, the phrase "logjam at the top of the leaderboard" could describe nearly every round for the MPO field at an Elite Series event. So far this season, the largest margin of victory at an Elite Series event is Calvin Heimburg's win by three strokes in the Jonesboro Open. A one-stroke lead might not feel like much, but losing a single stroke could drop a player down six or seven places. After Round 1, Isaac Robinson currently leads the tournament at 10 strokes under par while Gannon Buhr, Cole Redalen, and Chandler Kramer are tied for 2nd place at 9-under.
Robinson is on a hot streak, having won the PDGA Champions Cup with a comfortable five stroke lead and tying for 2nd place at the Jonesboro Open.
When asked about his recent string of success, Robinson said, "My game feels really good. I feel like I can look at a spot and I can put the disc pretty much exactly where I want it. I'm just feeling in the zone, I'm ready to attack these courses."
Robinson's plan of attack worked in the opening round, scoring 10 birdies and avoiding taking a single bogey. While Robinson missed a few putts inside the circle, he made up for it by making all three of his circle two putts.
According to StatMando, this is Robinson's third hot round within the last three tour stops. No other MPO player has more than one.
After winning his first Elite Series event at Idlewild in 2022 and winning his first Major at WR Jackson weeks ago, Robinson is known for scoring well on woods courses. After taking the lead at Swenson Park's ball golf course, Robinson is looking to change that image.
"I'm known as a woods player and it's great to be known that way, but I also want to break that and just be known as a good all-around player," Robinson said after Round 1, "Coming out here, attacking these open courses, these longer courses, I'm looking forward to it."
Buhr was also able to score 10 birdies but took a bogey on Hole 4, relying on his 100% C1X putting to keep him in the mix. Buhr has won an Elite Series and Silver Series event so far this season. Both Redalen and Kramer scored nine birdies and stayed bogey-free to earn their spot on the Round 2 lead card. This will be Kramer's first appearance on the lead card at an Elite Series event.
With such a difficult course and very little score separation, the MPO field is sure to see plenty of players clawing their way up the leaderboard on Moving Day of the 2023 OTB Open presented by MVP Disc Sports.
Live coverage of round 2 kicks off at 12pm Eastern / 9am Pacific on the Disc Golf Network.