W.R. Jackson bent, but didn't break on Thursday as the best in the sport returned for the first time in nearly three years for the inaugural PDGA Champions Cup presented by Bushnell.
Casey White and Corey Ellis turned in 11-under, 57s on Thursday, tying the course record at the revered track to take a one-shot lead over six more players that also found double digits in the first of four rounds at the International Disc Golf Center in Appling, Georgia.
Their rounds tie the course record set by Paul McBeth, Gregg Barsby and Isaac Robinson.
"I had no idea," Ellis said. "I was just trying to focus on one shot at a time and make my putts."
Both the leaders did exactly that.
Ellis and White had similar numbers on the tee with a 62% and 67% fairway hit mark, respectively. However, both excelled when those tee shots went errant – both went 100% in scramble rate – and on the green at Jackson. Both players went 100% in C1X and Ellis cashed in 60% from Circle 2 and White went 57%, according to UDisc.
White was happy with the way he escaped when things went sideways.
"Someone of my skill type, which is a lot of scramble and sidearm, bendy type shots, I think this is my kind of place to play," he said. "Every tee shot is fair, and everyone can play well from the fairway, but once you get off of the fairway, it's a matter of knowing what to do from there to get creative and executing."
Ellis, known for his prowess on the green, said it's crucial at a place like W.R. Jackson, which checks in at over 10,000 feet.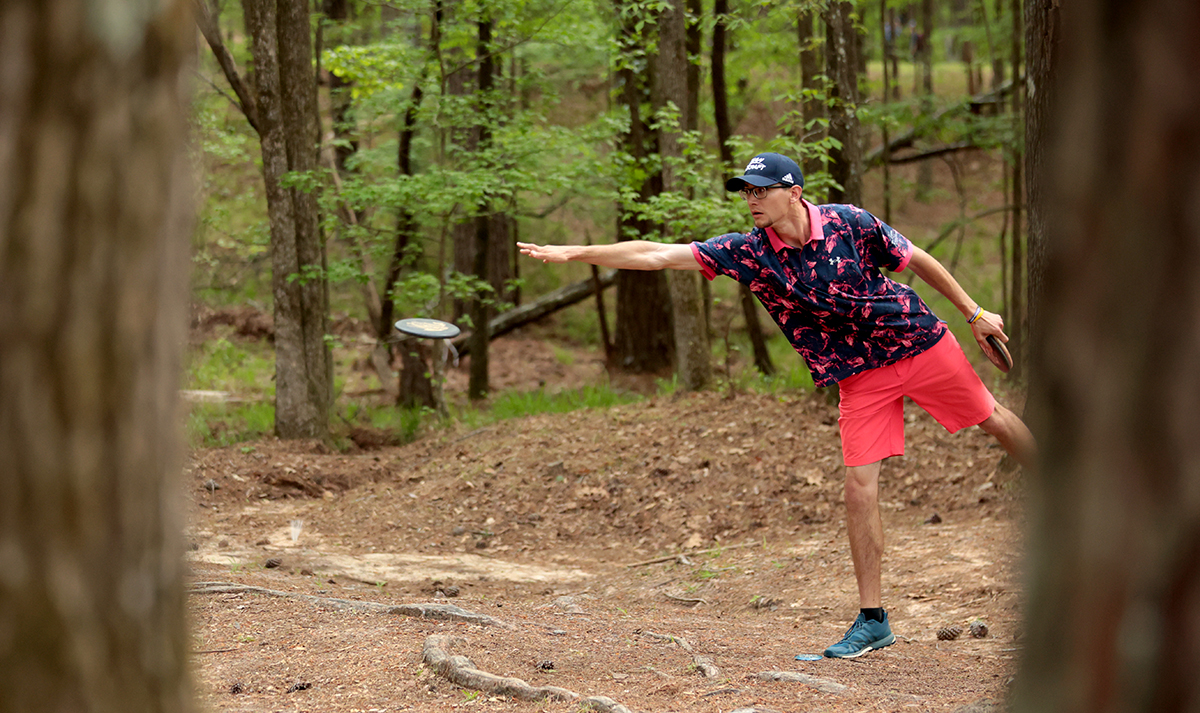 "I think putting gives you an advantage on this course," Ellis said. "You just want to make everything. If you're inside of 50 feet, you want to be making it if you're trying to compete for the win."
While White and Ellis tied the course record, six more players joined them in double digits and are one stroke off the pace in a logjam at the top of the leaderboard.
James Conrad and Matt Orum will round out the lead card. Joining them at 10-under are Ricky Wysocki, Calvin Heimburg, Matt Bell and Andrew Marwede.
The race for a PDGA Major title, however, is shaping up to be one of the tightest races in recent memory.
The eight players within one stroke of the lead is the first time the race is that tight after the first round of a PDGA Major since the 2008 USDGC, according to Ultiworld/StatMando.
Three players are at 9-under and six are three strokes back at 8-under.
The scores are low as the fields have risen to the skill level and repertoire that W.R. Jackson demands.
But it stood tall and demanded every ounce of focus after the first 18 holes of this 54-hole battle.
Catch the second round of the PDGA Champions Cup at 2:30 p.m. ET live on the Disc Golf Network.