Remember that scene in Jurassic Park?
The scene when the water in the puddle ripples each time the bass "thud" of the T-Rex's step rocks Isla Nublar?
The same thing happens when Kevin Jones – the DJ – plays a musical set for the spectators lingering on the scene after another day's action at a Disc Golf Pro Tour event.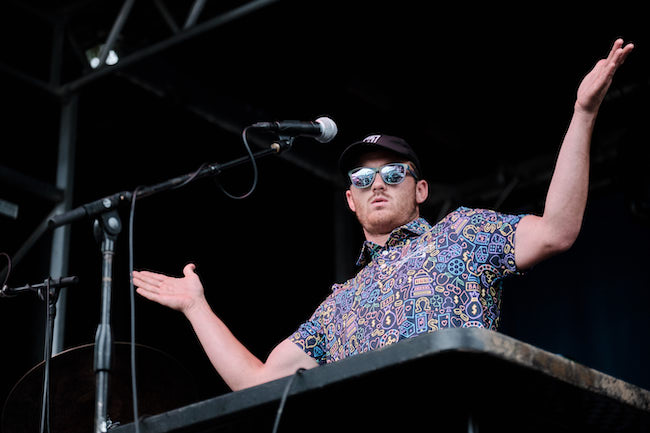 Kevin's music, mixed with the lights glowing in the drizzle and the dusk, creates quite a show.
On Sunday, the soundtrack won't be necessary. There's plenty of drama at the 2022 Portland Open.
FPO: Mandujano Pursues a Wire-to-Wire Win
Valerie Mandujano began her third round of the Portland Open with a bogey and a double-bogey. She ended her round with a bogey on hole 18. On the 15 holes in between, Mandujano played flawlessly, with nine birdies on the long, undulating Glendoveer course. Mandujano's lead ballooned from two strokes to eight. She's at 13-down.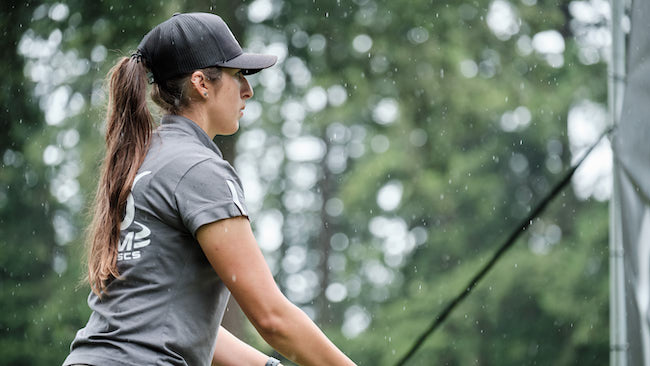 Rebecca Cox is Mandujano's closest challenger at 5-under-par. Cox overcame a double-bogey opening hole to move up to second place and remain on the lead card for the final round.
A pair of golfers are tied in third place – Ohn Scoggins and Catrina Allen. Scoggins' triple-bogey on hole one was slowly erased by bogey-free golf during the remaining 17 holes of round three. Meanwhile, Catrina Allen had fallen off the lead card after a catastrophic opening series, going 6-over through six holes. But, a 4-under back nine proved just enough to keep Allen in the top four.
Large leads have evaporated in final rounds on the Disc Golf Pro Tour in 2022. We'll see how Sunday shakes out in Portland.
MPO: Lizotte Extends, But Leaves Door Open
Simon Lizotte shot a third round that was just a stroke worse than the hot round of the day at 8-under-par. However, when his round ended with back-to-back bogeys, the handful of players within striking distance were reminded that anything can happen during a final round on a Glendoveer course that could give up a double-digits-under-par score. Lizotte, however, continues to show the way at 27-under-par for the event.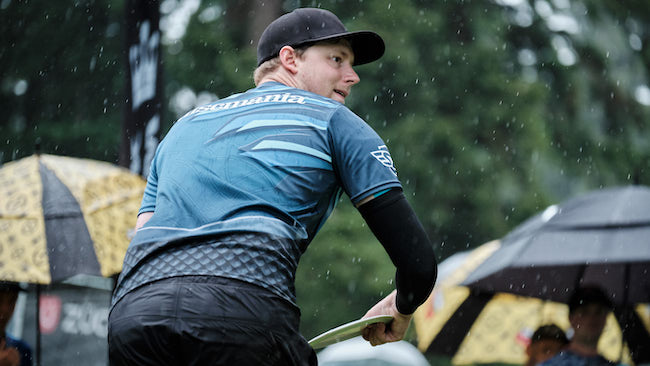 Garrett Gurthie, likewise, retains his position in second place. He's just two strokes behind at 25-under.
Isaac Robinson keeps his Cinderella story alive and will remain on the lead card for a third day in a row. At 22-under-par, Robinson is tied with Paul McBeth, who, despite shooting one of the hot rounds of Saturday with a bogey-free, 9-under effort, actually left strokes on the course. McBeth was unsettled inside the circle at times, but still birdied half the holes on the day.
It all comes down to the final round. The Disc Golf Network FPO livestream begins at 9:00 a.m. PT, with MPO coverage beginning at 3:00 p.m. PT.