Defying the Odds
Since she began competing at Elite Series and Pro Major events in 2010, no player has ever come back to beat Paige Pierce when she held a lead of five or more heading into the final 18.
Entering Sunday's final, Pierce had nearly doubled that previously insurmountable lead – carrying a nine-throw cushion over second place Natalie Ryan.
You would be forgiven for thinking the outcome was settled.
Only two people gave Ryan much of a chance: Paige Pierce, who had said that she was going to play like she was behind and gunning for the win, and Natalie Ryan.
Asked whether she would be content to hold off the rest of the field for a career-best second place finish, or if she'd be looking to defy the odds and make a run at Pierce, Ryan had a definitive response:
"I'm coming out aggressive," she said. "I'm going to do everything I can to try to catch her."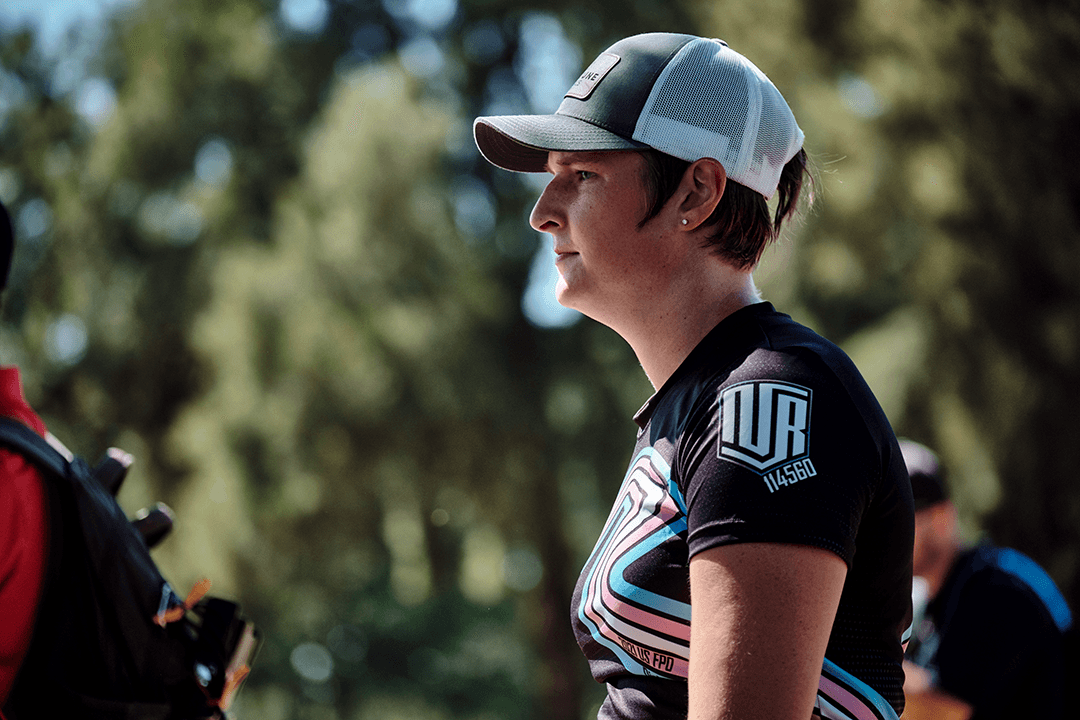 Closing the Gap
And come out aggressive she did, opening her round with a turkey and birdieing four of the first five holes.
Pierce, for her part, kept it clean and made birdie on holes two and four to limit the damage of Ryan's hot start.
But what started as a trickle grew into a flood when Pierce's C2 attempt on hole nine slid into the water and Ryan connected from just inside the circle's edge to force a two-stroke swing; and then again on hole 11 after Pierce sailed her approach OB long for another two-stroke swing.
As Ryan closed the gap, she managed to sustain her aggressive approach – hitting gaps, parking drives and putting even more pressure on Pierce from her position at the top of the box.
After a string of five-consecutive birdies, Ryan pulled even with Pierce on hole 15.
Then came the decisive moment on hole 17.
Ryan was first to tee. Her drive was slightly higher than she wanted it to be and caught some late branches. Sensing opportunity, Pierce pured her drive into the fairway and past Ryan's.
It was a subtle advantage, but it turned out to make all the difference.
Ryan, being further away and with a slightly tougher look than Pierce had a decision to make – play aggressive over the water and try to land close to the basket or play safe to the large landing area left of the basket.
To the surprise of no one who had watched her all weekend, Ryan went aggressive. But the aggression that had worked over and over again finally found its limit – her hyzer approach hit land, but failed to cross in-bounds.
Pierce, then, had no decision to make at all. She laid up to the safe landing area and pitched up for par.
Ryan, on the other hand, had to throw three more shots for a double bogey.
Just like that – Ryan's would-be history making comeback was no more.
"It was kind of huge," Ryan said about being the first to approach the green on hole 17. " I really wish I could have driven that hole well at any point this weekend, but a little bit of uncertainty on the tee kind of had the hole on the back burner for me. But going first on that approach shot to that green – it was the scariest moment of my life."
Lift Up the People Around You
Walking down the 18th fairway, the result all but settled, the gallery erupted with cheers for Ryan. It was a heartwarming moment for a player that has become used to facing down daunting challenges.
Pierce joined in to lift the spirit of her disappointed rival with an appeal that extended to fellow players, commentators and fans:
"To everybody that thinks that can't do something. You think you can't play the piano; you think that you can't throw a roller; you think you can't come back from a nine-stroke deficit; you think I can't come back after she catches me and the momentum is clearly in her favor. You can do anything. As the media, as the commentators, as the spectators, as a friend or a mom – whoever you are, lift up the people around you."
It was the 29th Pro Tour victory for Pierce and her first win since claiming the PDGA Champions Cup in April. Rounding out the podium, along with Pierce and Ryan, was Juliana Korver who posted her best result since returning to elite professional disc golf last year.
The Disc Golf Pro Tour returns to action June 2 at the Portland Open.