When famed course designer Leonard Muise set about reimagining the 18-hole layout at Swenson Park for the OTB Open, he didn't do so with the world's best disc golfers in mind.
What he had in mind, rather, was the future.
"More and more women are throwing much further than the norm even two or three years ago," Muise said in his press conference.  "And unlike last year, this is not a temporary layout. This is essentially a permanent layout now. I did see that it was a little longer than maybe I would have normally liked, but I'm also designing something that's got to last as the skills advance."
The result was a nearly-12,000 ft. (10,000 ft. for FPO) monster track that, when combined with swirling 20-25 MPH winds, conspired to hold the world's best at bay during round 1 of the 2022 DGPT – OTB Open.
Paige Pierce Alone Under Par
The winds were worst in the early morning and gradually improved throughout the day, wreaking most of its havoc on the FPO field.
Defending champion Paige Pierce, the lone woman to find herself on the good side of par after round one, carded eight pars and a birdie on the front before setting off on a wild ride during the back nine in which she carded only two pars to finish at 1-under.
"It was really windy out here," Pierce said after coming off the course. "There was a lot of swirling wind too, so your competitor might have a different wind from you on the tee pad. There was a lot of adapting and improvising on every shot. It was a fun challenge – it's what keeps you on your toes."
A few near-misses, including an approach shot over the water on hole 10 that hit the far bank but failed to reach the painted line just a foot away, along with a tough day on the putting green (43% C1X, 0% C2 according to UDisc), kept Pierce from running away from the field.
"When I got my double bogey, I was actually in great position. The first shot was exactly where I wanted, but the second shot there was a tail wind and my spike hyzer got smashed down. I wasn't really mad at all – I realized that it was my first over stroke of the round – so, don't get mad, that's the first mistake and just keep it rolling."
Right on her tail is tightly packed leaderboard, led by Natalie Ryan at even par, and the Mandujano sisters – Valerie and Alexis – along with Holyn Handley, at one-over.
Hometown Hero Cody Kirkland Leads MPO
As the winds began to settle in the afternoon, Cody Kirkland, a disc golfer-turned Ultimate player-turned back again to disc golfer, and son of legendary Frisbee pioneer John Kirkland (PDGA #100), rode an electric performance to a two-throw lead in MPO.
Kirkland not only showed all-around excellence, finishing first in strokes gained tee to green and second in strokes gained putting, but also had the highlight of the day when he threw-in from 318 ft. on his approach shot on hole 17.
Not to be phased by the moment, or the fact that he was leading a world-class field at an Elite Series event, Kirkland went on to birdie hole 18 – which played as the hardest hole of the day – to finish at seven-under par.
"I definitely had to take a second before the drive on 18," Kirkland recalled. "I was pretty nervous on the drive on 18 – it came out just okay, I got my line but it was pretty low. On my second shot I had about four hundred in and I don't really like the layup play there. I was told it did a rail slide on the top of the fence and then skipped late – so I kind of got away with one there, but I was happy to walk away with the birdie."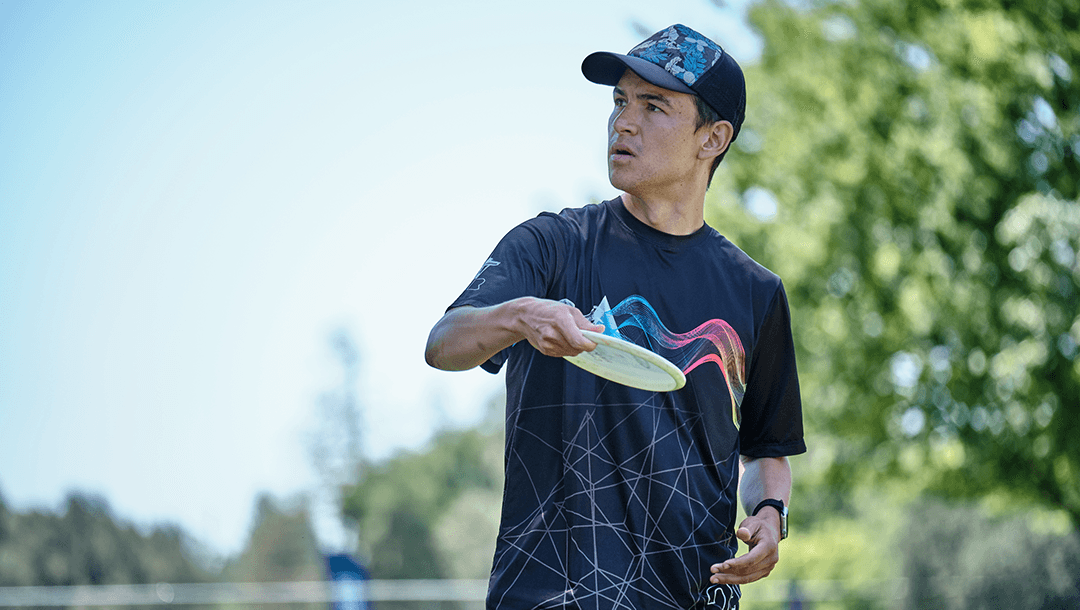 Kirkland will be joined on the round 2 lead card by Matt Orum, who sits two-back at five-under, along Simon Lizotte and Aaron Gossage, who had a breakout performance when he finished seventh at this event in 2021, who finished at four-under.
"Pretty special, to be honest," Kirkland said about leading at a DGPT Elite Series event. "I've been playing a lot over the last year and I've gotten a lot better, and I've proven that on the local level. But stepping it up to play with the best players in the world is definitely a different beast. So I was just trying to play a solid round – and that's the same plan for tomorrow. This course can really penalize you if you get aggressive."
Also at four under is Ricky Wysocki, who produced a heroic effort, pushing through pain and swelling in his left knee to keep within striking distance of the lead.
Wysocki, who is currently number one in the PDGA U.S. Tour Ranking,  won the last Elite Series event at the Dynamic Discs Open but dropped out from last week's DGPT Silver Series event at the Santa Cruz Masters Cup before deciding to jump back in at OTB.
"One of the reasons it was so hard for me to not play this tournament is that I was playing so well," Wysocki said after his round.  "I've been playing really well, and it's hard to take time off when my game feels amazing and I feel like I can win. So, it's game on."
Live Coverage of Round 2 of the DGPT – OTB Open kicks-off Saturday at 9:30 a.m. on Discgolfnetwork.com.