On an opening day when several top players struggled to find their footing, a number of up-and-comers climbed the leaderboard during the first round of the DGPT – Play It Again Sports Jonesboro Open powered by Prodigy.
The result: fans will watch lead cards made up of both experienced stalwarts and youthful upstarts as the tournament heads into the weekend.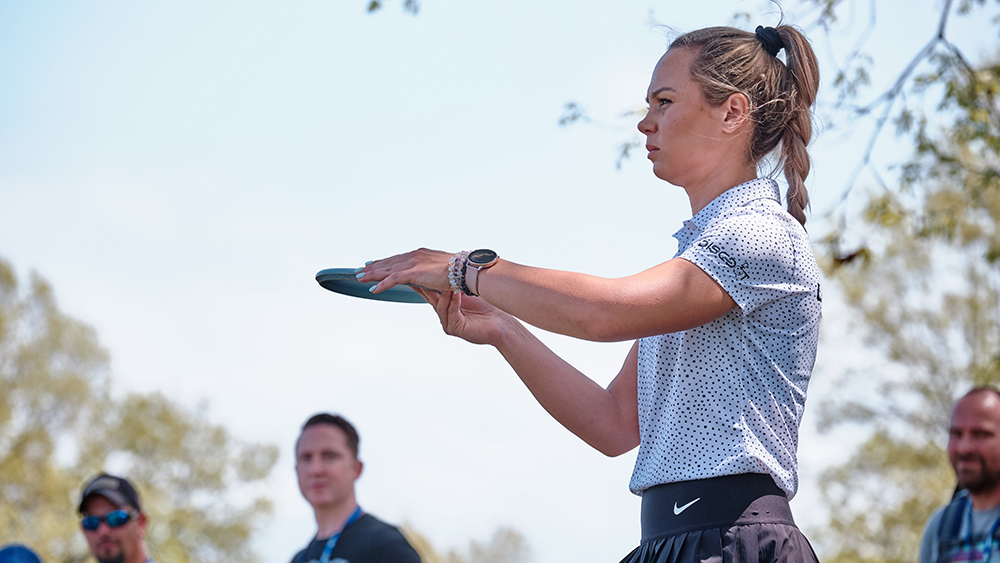 Kristin Tattar leads by three strokes at Disc Side of Heaven. Photo: Kevin Huver / DGPT
FPO First Four: Different Styles Prove Effective
Ella Hansen attacked a soggy, slippery Disc Side of Heaven course from an early tee time and posted the early leading score of six under par. Several loose shots on the back nine led to a few bogeys, but ultimately, Hansen's raw power off the tee helped her navigate the long, undulating fairways better than most. She finished round one in third position.
Kat Mertsch, an Arkansas native, has been making her presence known in 2022, becoming a staple on the leaderboard. A seven under par effort will place Kat, who has been focused on her mental game of late, on the lead card going into Saturday.
"I was trying to not think at all," said Mertsch. "I was just trying to be there."
Hansen and Mertsch will join two of the most familiar faces in the game on Saturday morning.
Full Coverage of the 2022 Jonesboro Open»
Missy Gannon used an especially hot stretch of seven birdies in nine holes – from holes nine through 17 – to overcome two bogeys and one double-bogey, and find herself in fourth position at five under par.
All will chase Kristin Tattar who, despite coming off an emotionally challenging week off the course, takes a three-stroke lead into Saturday.
Ignoring a blustery wind that increased throughout the day, Tattar carded 10 birdies during the last 15 holes of her round, ending with an exclamation point – a bullseye hit and a drop-in birdie at the 18th basket.
"I was really excited to come back and just play. This is where I feel the most comfortable," said Tattar.
She will join Mertsch, Hansen and Gannon on the tee at 9:33 a.m. local time on Saturday morning.
Several of those who struggled during round one include Catrina Allen (T14, -1) and Paige Pierce (T19, Even). However, each has held the single-round record – currently a -14 by Pierce – at the Disc Side of Heaven course, and know first-hand that hot rounds are possible.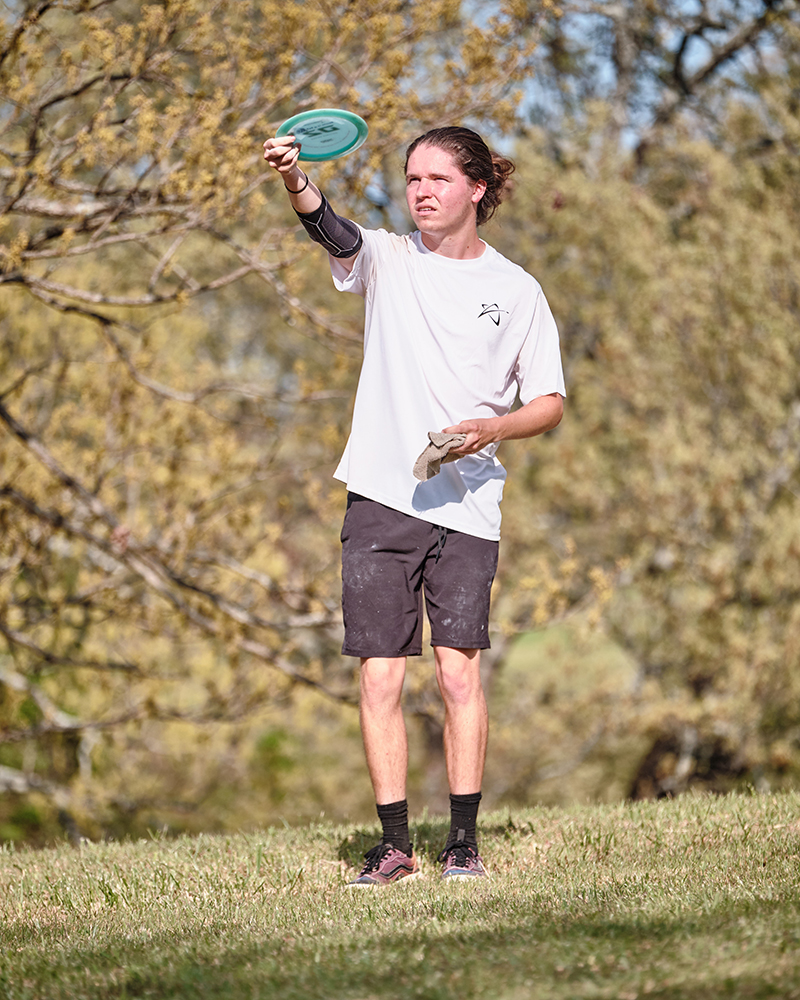 Alden Harris had the hot round during the first round in Jonesboro. Photo: Kevin Huver / DGPT
MPO First Four: Fresh Faces and Familiar Foes
On the one hand, blustery winds rapidly dried out the spongy Disc Side of Heaven course during the MPO portion of day one. On the other hand, the winds added a level of difficulty to the long track.
Like the FPO field, the leaders are a mix of fresh faces and established tour veterans.
Alden Harris leads, thanks to an 11 under par opening round – the only round to finish double digits under par in the division.
"It's kind of funny. I consider myself a 'woods' disc golfer, but I also feel that I play relatively safe, so out here if I can avoid the bogeys like I did today, I can definitely shoot well," said Harris.
As for how he will handle the nervousness of sleeping on the lead at a DGPT event, Harris is less certain.
"I don't know. It hasn't really sunk in yet. I can't really tell you," he said.
Gannon Buhr's nine under par round will make him the second "young gun" on the lead card for round 2, as he relies on lessons learned from being in contention at the Las Vegas Challenge earlier this season.
The youngsters will join the nearly-as-young-yet-veteran duo of Eagle McMahon and Kevin Jones, teeing off at 3:48 p.m. CT on Saturday afternoon.
McMahon continues to test a tender arm and seems to be gaining confidence in his ability to sustain an elite-level performance. He is part of a crowd at 8-under and makes the lead card by virtue of a lower PDGA number.
Kevin Jones – from nearby Greenwood, Arkansas – sits tied with Buhr in second place.
"It feels good to be back in Arkansas, and it feels good to put in a solid first round," said Jones.
The Disc Side of Heaven sets up well for Jones' well-rounded playing style and, in particular, for his talent in sinking long putts on elevated or hillside baskets.
"My number one focus going into tomorrow is to keep putting myself inbounds and keep giving myself putts," added Jones.
With the weekend to play, more than 20 golfers are still within six strokes of the lead, including Calvin Heimburg (-8), Thomas Gilbert (-8), James Conrad (-7), Paul McBeth (-7), Chris Dickerson (-7) and Ricky Wysocki (-5).
Live coverage of round 2 of the Jonesboro Open begins at 9:15 a.m. CT for FPO, and 3:30 p.m. CT for MPO on the Disc Golf Network.
Article written by Grant Zellner #61914