Lizotte Looks to End Drought
It has been exactly 1,540 days since Simon Lizotte last lifted the trophy at an Elite Series event (2018 DGPT Memorial Championships).
In that time, Lizotte has battled through injury and faced down disappointment. He also become a new father.
"I read comments of course, and I hear people talk that I used to be good and now I'm just doing the YouTube stuff and not trying to be the best player I can be," Lizotte said of his absence from the winner's circle. "But the truth is – I am trying, of course. I did a lot of putting in the off-season for the first time in years and I really feel more confident on the putting green. Everything feels just a bit slower than it used to and a bit more controlled, and I think me being a bit more controlled is going to be dangerous in the future."
That future may come sooner than later.
Lizotte claimed the top billing for Sunday's finale after posting an eight-under 58 during Saturday's round two.
He got rolling early, birdieing seven of the first nine holes, including a circle 2 putt on the first hole and a "Simon line" on hole 6 that left card mate Cody Kirkland in disbelief.
But things cooled off dramatically for Lizotte on the back nine, with only a single birdie coming on the tenth hole.
"It was so strange. The front nine I played to win, and the back nine I played not to lose. And that is such a rookie mistake. I know I haven't really been in this position in the last couple years, but I've been there often enough to know better. Tomorrow I've got to go attack mode and not defense, because disc golf is not a defensive game."
Lizotte will need to keep his foot on the gas Sunday as a talented group of contenders crowd the leaderboard.
Anthony Barela, who is looking for his breakthrough win at the Elite Series level, will lead the hunt, sitting one back of Lizotte at 11-under, along with Calvin Heimburg at 10-under and Aaron Gossage and Drew Gibson at 9-under.
Pierce Laps the Field
Unlike the MPO field, where 12 players' sit within five throws of the lead, there are exactly zero players within five throws of Paige Pierce heading into Championship Sunday.
That's bad news for anyone hoping to unseat the defending champion – Pierce has never lost an Elite Series or Major event when entering the final round leading by at least five.
Pierce began Saturday's round two leading by just a single throw over a tightly packed field that saw little scoring separation during a wind-blown opening round.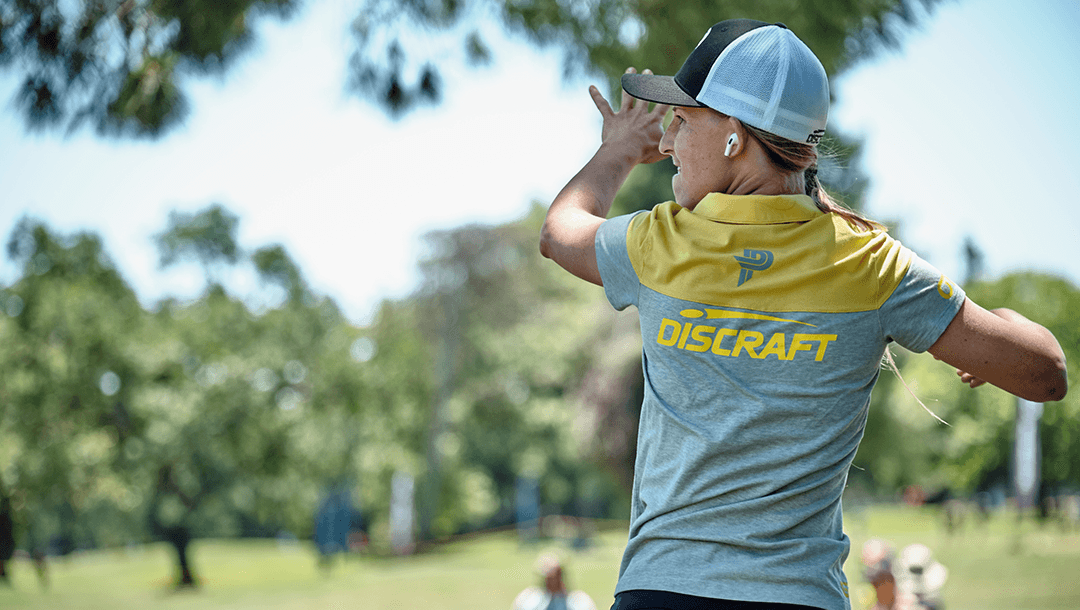 The suspense didn't last long, though, as Pierce came blazing out of the gate on Saturday on her way to a bogey-free 10-under 58 in which she carded just a single OB and was perfect from C1X on 15 attempts.
"I was 100% from inside the circle today and I think that was the key," Pierce said after the round. "On my drives – I only had 1 out of bounds but it was right next to the basket on one of those par 3's with water right beside it. So yeah, everything felt like it was flowing well."
Well behind Pierce, the rest of the leaderboard, including Natalie Ryan (-2), Jennifer Allen (-1) and Missy Gannon (E), remain knotted-up in a close race for second.
While it is possible that one of these players could make a run, especially if Pierce were to open the door with some mistakes, the more likely scenario is a Pierce victory lap.
"Every round is a new test," she said of approaching the final with a nine-throw advantage.  "It doesn't matter what my lead is or deficit is. I'm trying to shoot the hot round and pretend that it's the final round of a Major Championship or the World Championship. My mindset is to pretend I'm down and that I need to shoot the hot round."
Live coverage of the final round of the 2022 OTB Open is available FREE on the DGPT YouTube channel, with FPO coverage kicking off at 9:30 a.m. and MPO at 3:00 p.m. Pacific.