Drew Gibson and Catrina Allen live for this.
The grind paid off in epic fashion for both this weekend to kick off the 2022 PDGA Elite Series at the Disc Golf Pro Tour – Las Vegas Challenge presented by Innova.
There were fireworks until the very end, with Gibson hoisting the trophy after a thrilling final round and four-hole playoff with the young gun Gannon Buhr. Allen, earlier in the day, returned to the winner's circle after yet another installment in the saga between her and Paige Pierce came down to the 72nd hole.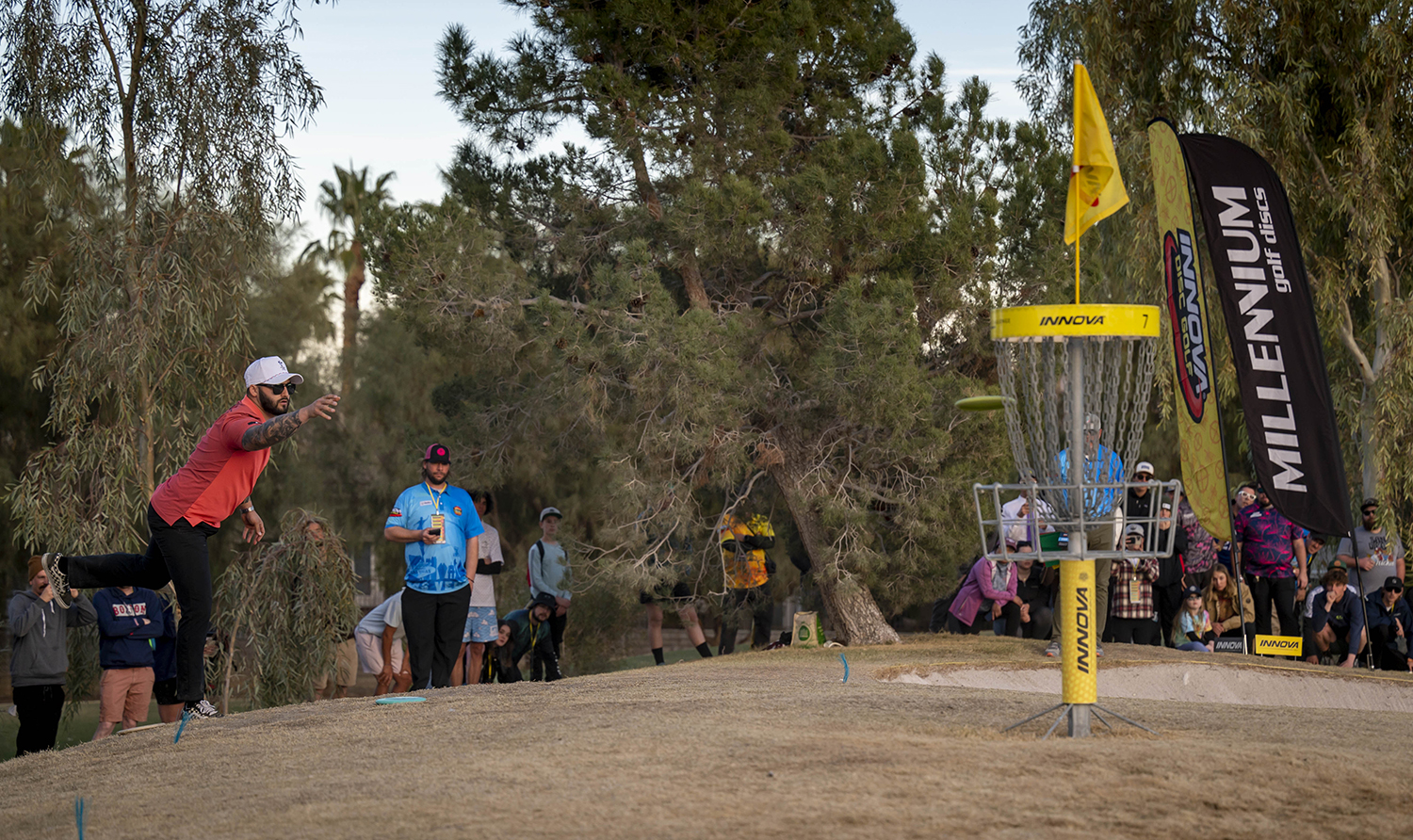 "It's what I live for," Gibson said. "I love this game. I love competing. I love playing. Being in that situation where you either birdie or lose a tournament is something I thrive on. I don't want to win by 10 – it sounds good – but I like this. This makes me a better player and the next time I'm in this situation, I will feel even more comfortable.
"It makes me happy to know that I grinded it out to the maximum."
Complete coverage of the DGPT – Las Vegas Challenge »
Allen and Pierce entered the final round tied and at the top. 'Again. Every year,' Allen said. After building a five-stroke lead at the turn, it was Allen walking up the 18th hole on Sunday with a putt to win.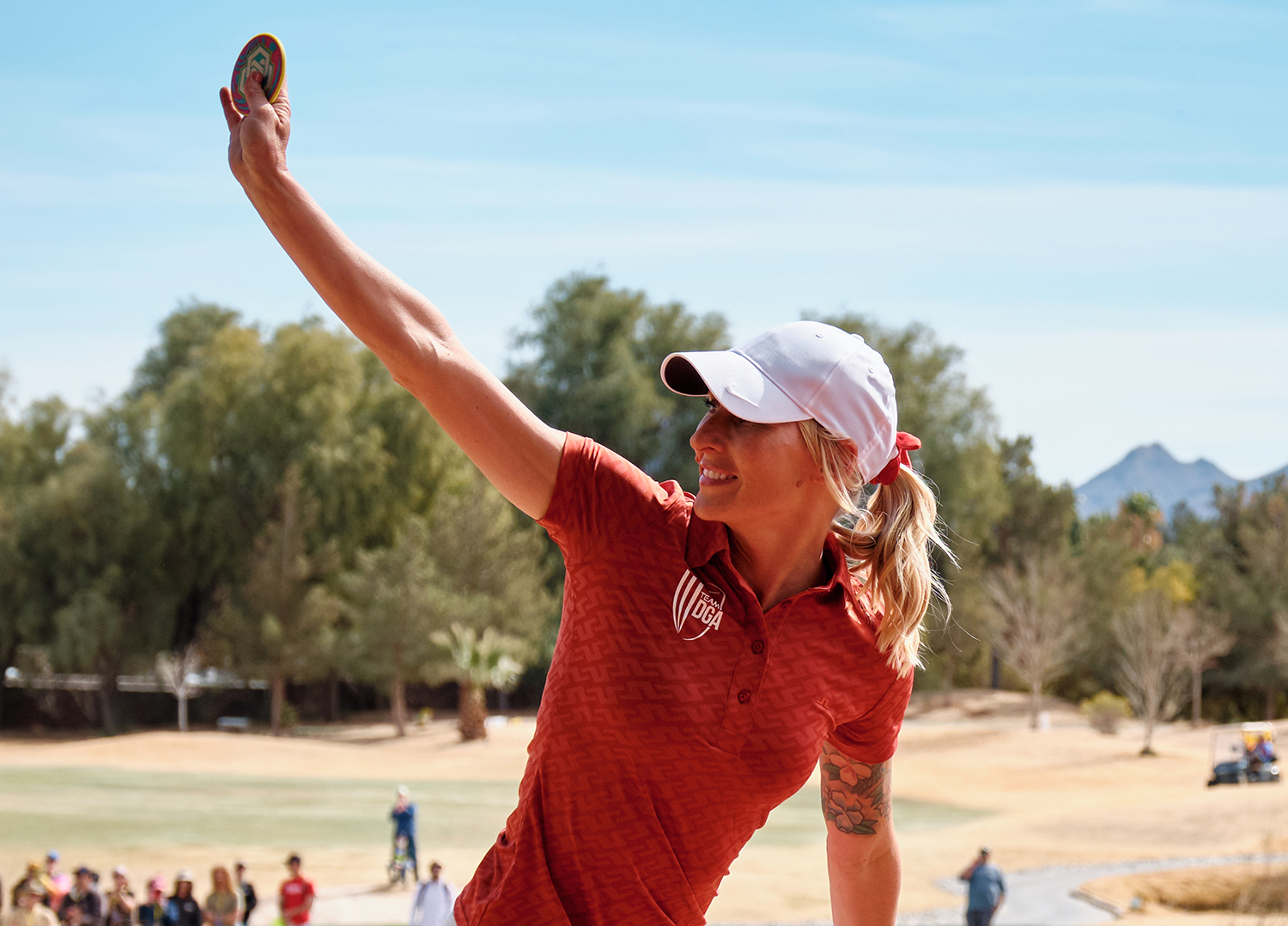 "I was just walking up to that last putt thinking about all of the mornings in the gym, the hours on the putting green, that I deserved it and I was really happy for myself," the now four-time LVC winner said. "I just let all of that hard work take over – my process."
Thrilling Finish
Gibson started the four-day event down the leaderboard in 45th place after a lackluster opening round. From there, it was pedal down all the way through Sunday afternoon when he closed the gap on Buhr, a 16-year-old, two-time PDGA Junior World Champion that showed the poise and prowess of a seasoned vet with every step on the Wildhorse property.
Both Gibson and Buhr were connecting from everywhere near the basket. They both finished with a 45% mark from Circle 2. Buhr led with 11.76 strokes gained putting and gained in C2 (8.04), according to UDisc. Gibson was right there in both categories, 10.02 and 6.35, respectively.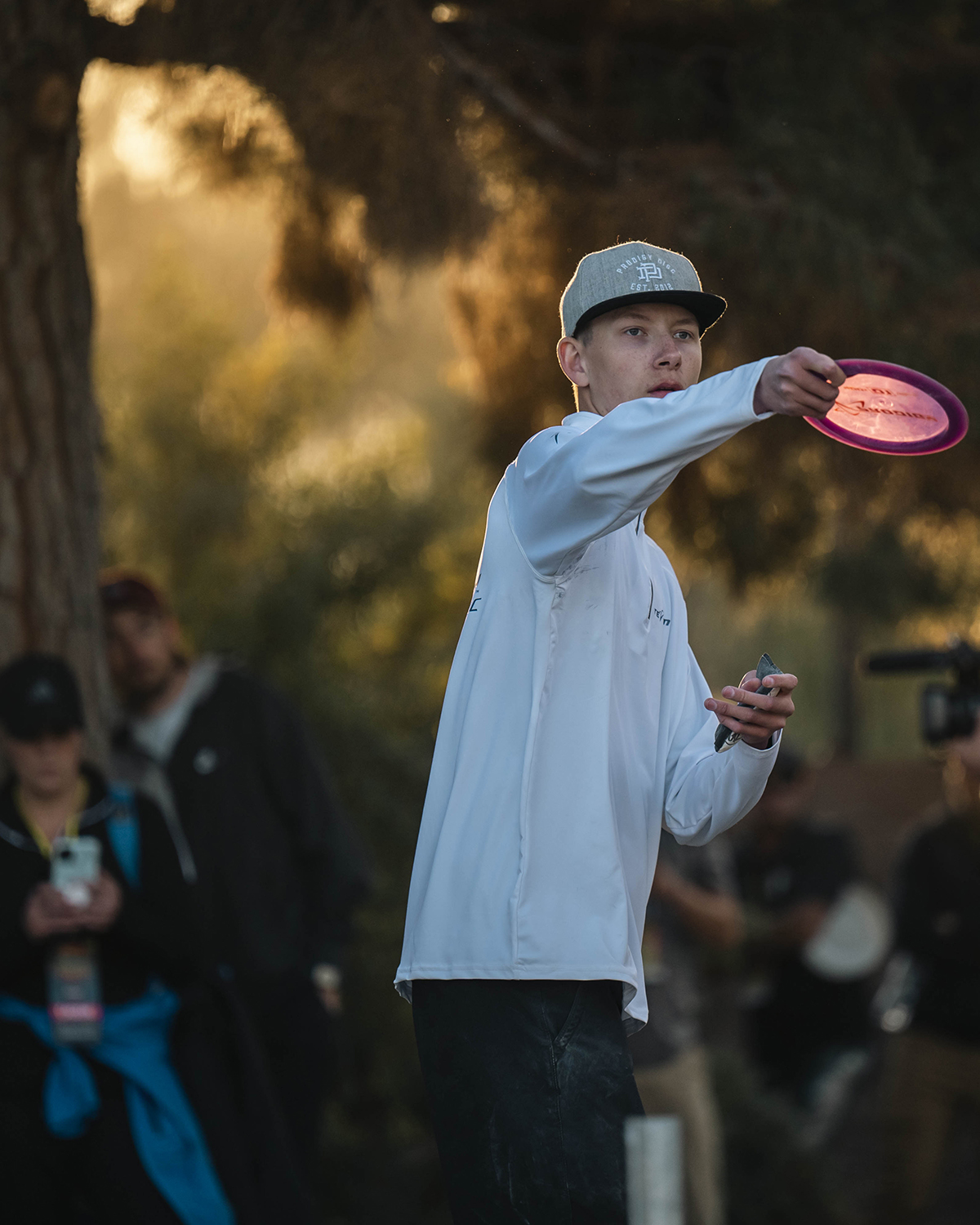 It essentially came down to match play.
Down one stroke, Gibson went for broke on 18, landing his drive on a sliver of a fairway to put himself in excellent position. Buhr followed the line with the same result, but his upshot trickled off the back of the green out-of-bounds. After hitting yet another nervy putt, it was time for a playoff to open the 2022 season.
The two matched throughout the first three playoff holes with, you guessed it, nails on the putting green.
On hole 7, the OB-laden, 432-foot par 4, Buhr's drive found the right hazard bunker, prompting a switch in plan from Gibson, who grabbed a midrange and kept his drive short to set up a touchy approach to the postage stamp green.
"I was more than ready to go for it," Gibson said of his drive. "In the round, Gannon got an eagle on the hole, and I got the birdie out of the bunker. Today, on the second time, I figured I would make him make that 40-footer. I thought he was a little further than he was. The chances that I stick it on that 10-foot-wide landing off the drive in that situation is pretty scarce. I was happy to lay up and put the pressure on him."
Buhr's putt sailed just high, leaving Gibson a tap-in putt for his first DGPT win since the 2019 Portland Open, which also came in a playoff.
The two embraced and exchanged a few words after their showdown. Gibson said it best about his competitor.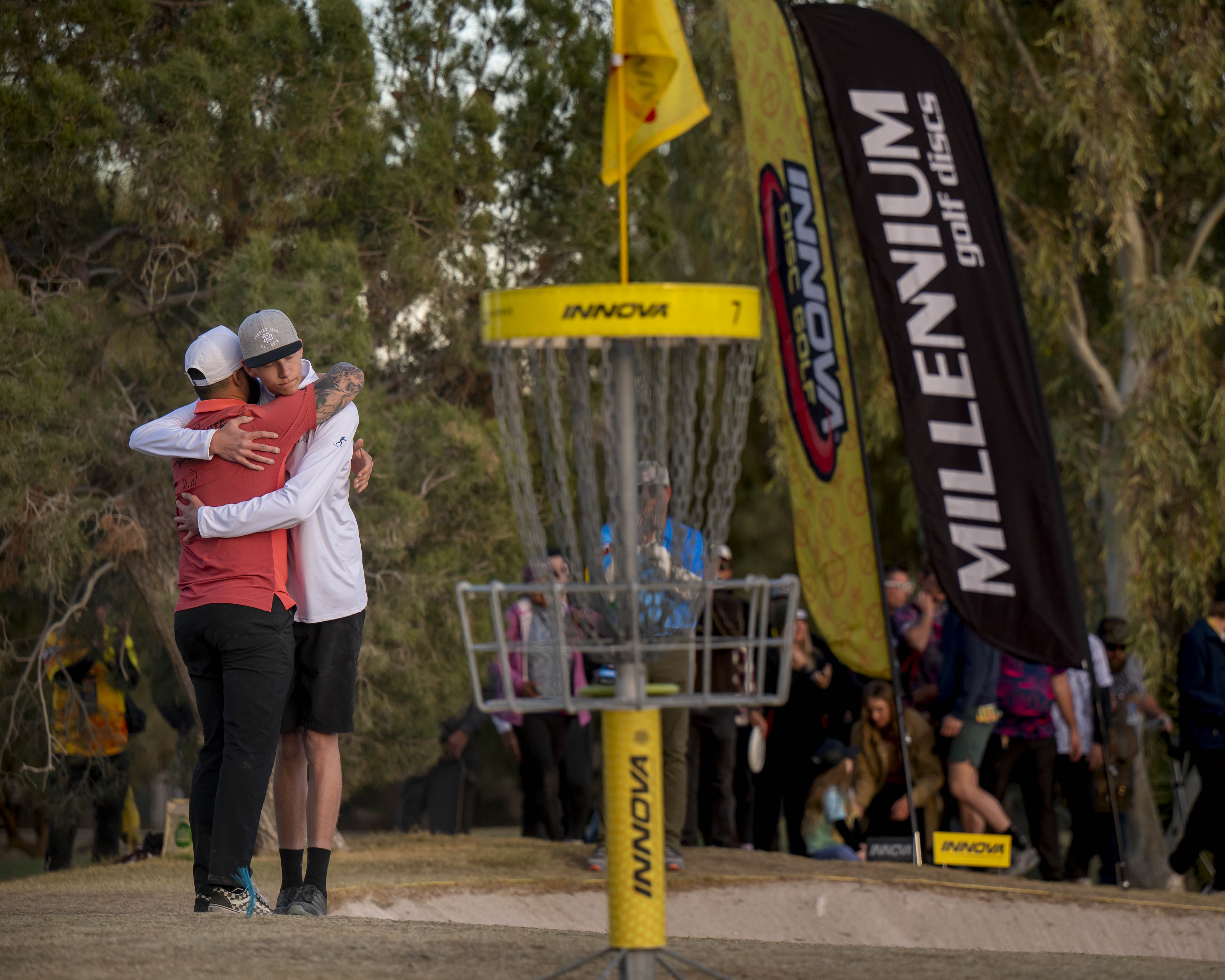 "That is some of the best disc golf that I've ever seen or played against I think in my career," Gibson told Terry Miller of the Disc Golf Network. "The kid makes it from everywhere. To play against that level of competition from a 16-year-old kid is unbelievable. I played my butt off the last three rounds. I mean, I threw a perfect shot on almost every hole I felt like and had to go to a four-hole playoff.
"That's the future of disc golf right there. The kid is going to be a force to be reckoned with now, next year and for 10 years. The poise is unbelievable. I just look forward to many more battles with him."
Calvin Heimburg (3), Kevin Jones (T-4), Luke Humphries (T-4) and Thomas Gilbert (10) matched Gibson's hot round of 48 on Sunday to jump up the leader board.
Here We Go Again
Pierce closed a six-stroke gap to set up a Championship Sunday showdown with Allen once again. Then she erased a five-stroke gap on Sunday to set up a thrilling finish between the top players in the world.
Again.
"It's kind of weird, but the closer the gap gets, the more I can just focus on myself," Allen said. "The more of a lead that I had, I felt like I was getting too far ahead of myself. In that moment, the only thing I can worry about is myself and I was trying so hard to keep all of those thoughts and nerves behind me and just stay in the moment."
It was a back-and-forth start between the two with Pierce grabbing the outright lead on the first hole on Sunday. Then the first shift happened as Allen built a five-stroke lead to start the back nine.
But that dwindled as Pierce surged to tie things up on hole 15.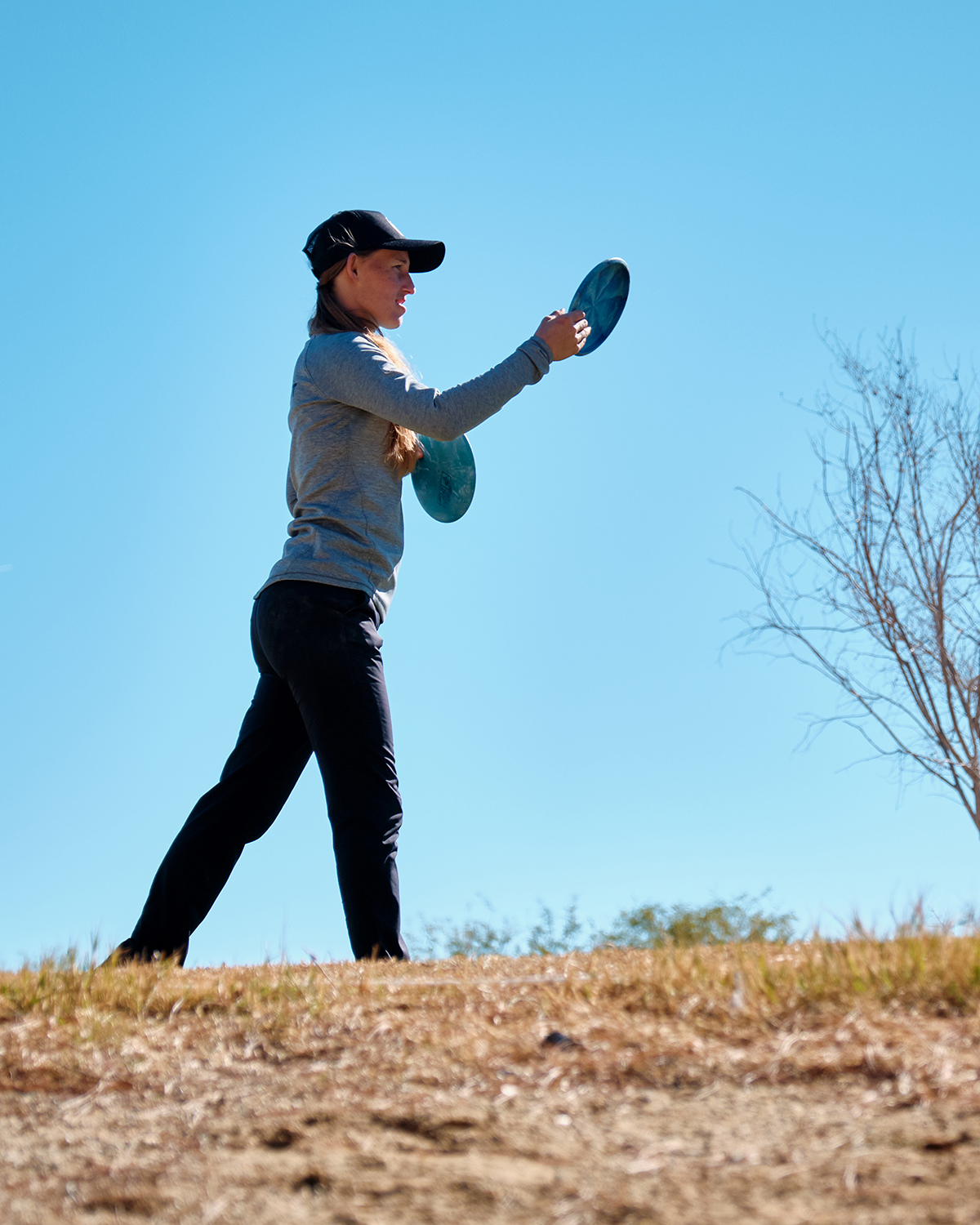 Allen had already torched the Innova Course to the tune of an 11-under, 1015-rated second round, and stuck to that plan.
"It's hard to come back to a course when you've played so well there before," Allen said. "I just tried to play the conditions today and just play my game – not think about 'oh, I birdied this the other day or eagled that.'
"I had a game plan on every hole. I didn't feel that no matter how ahead or behind I was, changing my plan that early or even that late would be necessary. I had a feeling that it was going to come down to 16, 17 and 18 and I was just trying to stay in my abilities and my own game."
Pierce closed the gap to one stroke on 14 with a drop-in eagle and things knotted up with Allen's bogey on 15. Allen, debuting her new bag with DGA, connected on a clutch putt for birdie on 16 and the two matched on 17, setting up a dramatic finish on the signature 18th.
Pierce's upshot sailed left into the water, allowing Allen to attack the green for the win and close another chapter in the saga between the two top players in the world.
The grind continues next at the DGPT – Waco Annual Charity Open, set for March 11-13 in Waco, Texas.
"There are some things I can improve on for the next one," Allen said. "We're going to get in the woods a little bit, so I have to work on timing. Then, it's the same old, same old – gym, field work and putting."
Kristin Tattar finished third at 25-under par, four strokes back of Pierce. Ella Hansen and Missy Gannon matched Allen's hot round of 9-under to finish sixth and seventh, respectively.