2023 PDGA Champions Cup Round 2 FPO Recap
Friday, April 21, 2023 – 23:16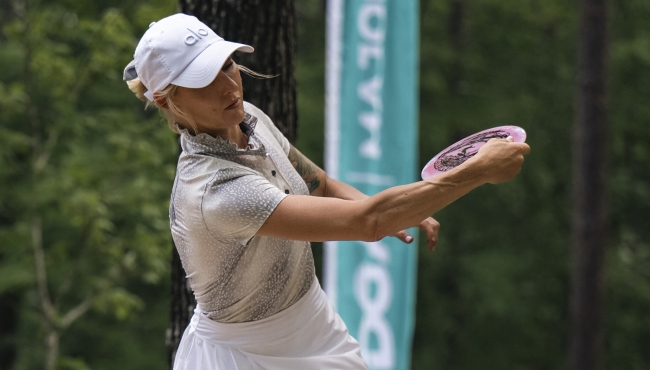 It was another gorgeous day in Appling, Georgia for Round 2 of the 2023 PDGA Champions Cup presented by Bushnell.
The FPO field once again finished with some hot scores after navigating the woods of the W.R. Jackson Memorial course. Kristin Tattar extended her lead from two to five strokes over the field, sitting at the top of the leaderboard at 16 strokes under par with Catrina Allen in second place at 11 strokes under par.
Allen and Tattar played remarkably similar rounds on day two, with Allen scoring 6-under and Tattar scoring 7-under. Both were bogey-free and maintained 100% C1X Putting. Avoiding bogeys is a tough task at W.R. Jackson, especially with the pressure of a PDGA Major.
Even for the pros, it's difficult to consistently hit gaps on these wooded fairways. Even a well-executed drive can leave the player stuck behind a tree for their upshot and missing a line by a couple feet can cause huge tree kicks into the rough. Without much OB to speak of on this course, players have to get creative when scrambling out of the rough to save a par.
After Round 2, Tattar is still bogey-free for the tournament. According to StatMando, Kristin Tattar has pushed her bogey-free streak to 53 straight holes, since Hole 2 of Round 3 at the Blue Ridge Championship. This is the longest bogey-free streak of the season.
Tattar had another hot start on day two, going 5-under on the front 9, including another eagle on Hole 8. Compared to her circle 2 putt in Round 1, Tattar had a much easier putt inside the circle for her eagle on day 2, and was joined by four other FPO players including fellow card mate, Kat Mertsch. Tattar's round slowed down a bit on the back 9, only scoring two more birdies.
When asked if she felt pressure to keep scoring to maintain a lead on the field, Tattar said, "I feel the need to birdie because of myself, not because of others. I just want to birdie because I know I'm capable of birdieing every hole and I'm kind of frustrated and sad how I ended my round by not getting any birdies. It's not about me and the others it's just me executing my gameplan."
Regardless of the lead she has over the field, Tattar is motivated by her own expectations for herself.
Allen's steady play hasn't netted her an eagle or a hot round in the tournament so far, but she shared a similar sentiment when asked if she would she change her gameplan to catch up to Tattar.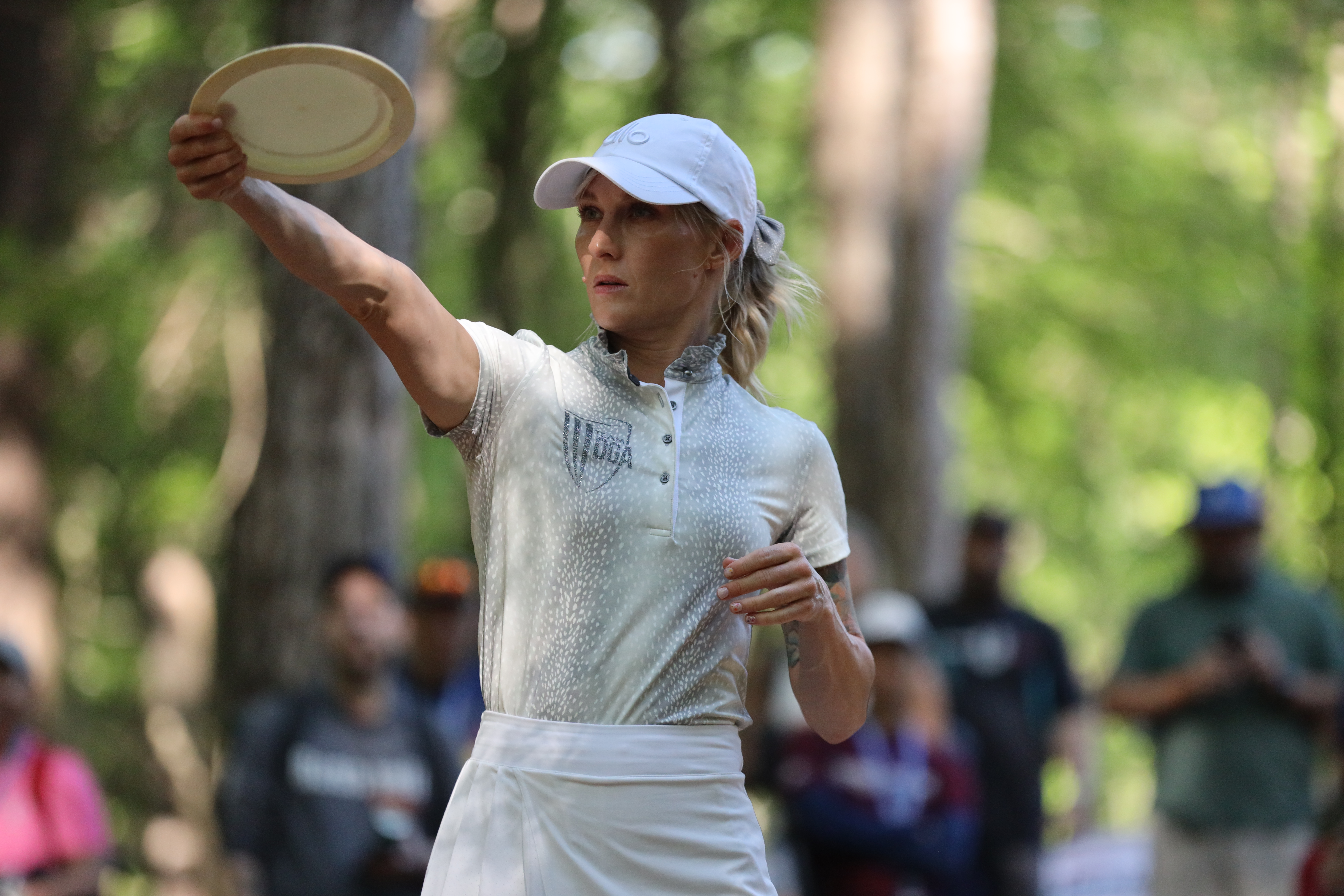 "I am not playing against Kristin Tattar, I'm playing the course and I'm playing my gameplan and I can't control what she does," Allen said after Round 2, "I'm not going to get out of my game to try to win and then find myself not in a good mindset."
While the pros are certainly fueled by competition, both Allen and Tattar have stayed driven by focusing on their individual gameplans. The success of one player does not mean the failure of another, so neither Tattar nor Allen feel the need to change their gameplan in response to someone else's performance. Coming down the stretch during the final round, we could expect more match play if the scores are tight, but the goal in the first few days is to put yourself in position on Sunday by executing three solid rounds.
In Allen's own words, "When I'm playing my good golf, I'm not thinking about score, what other people are doing, I just get in my groove."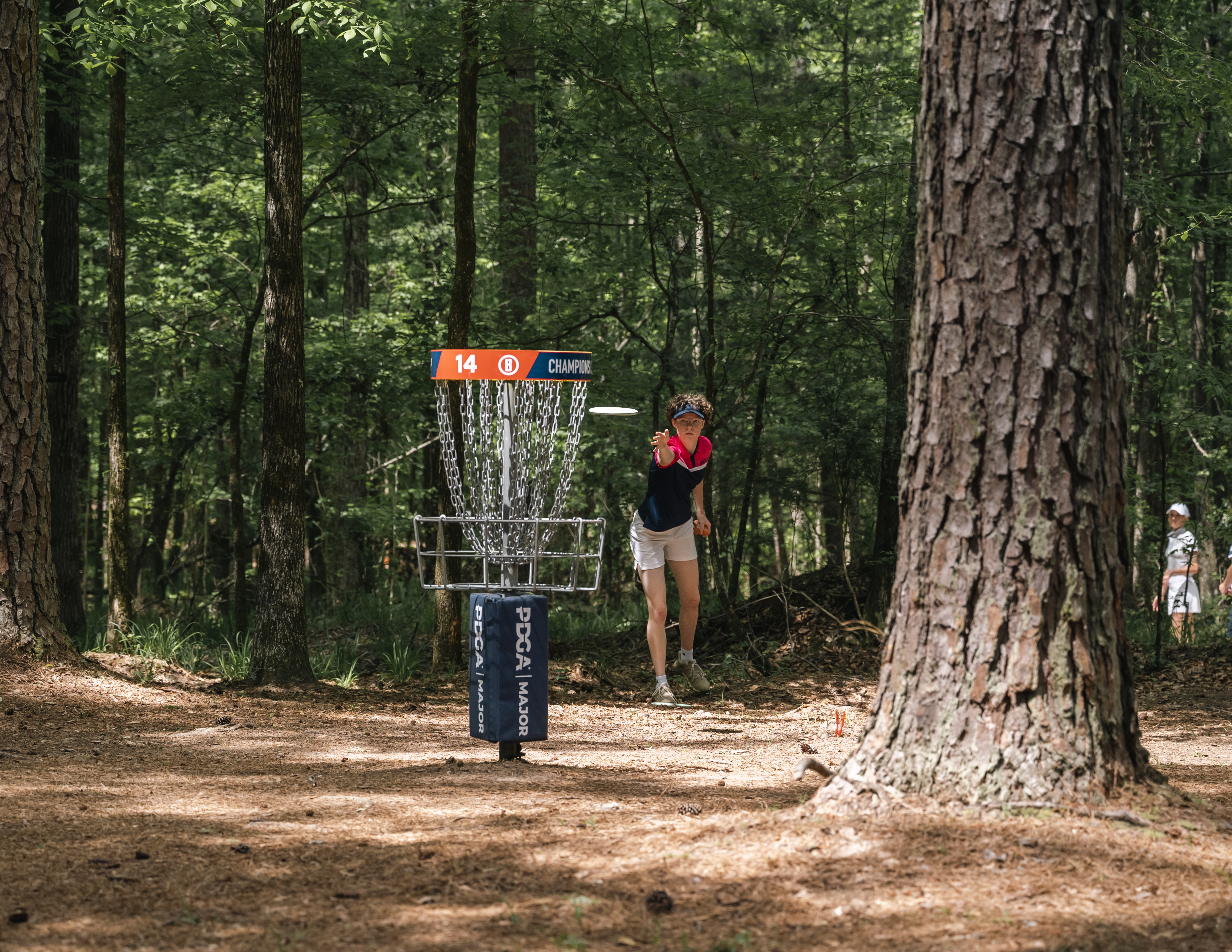 Even with Allen jumping up to 2nd place, the lead card will remain the same in Round 3 with Mertsch finishing at 9-under and Hailey King at 8-under. Mertsch was able to score six birdies and an eagle in Round 2, but a rollercoaster round with four bogeys and a double bogey left her at 2-under for the day. King was also able to pick up six birdies, but wasn't able to avoid bogeys in the woods at Wildwood Park and also scored 2-under in Round 2.
We're halfway through the tournament with a potentially windy and rainy day on Saturday. There's still plenty of golf to be played on Moving Day of the 2023 PDGA Champions Cup.