Moving Day Madness
2023 USWDGC – Round 3 FPO Recap
Sunday, September 24, 2023 – 08:20
The rain was pouring as the FPO field played the third round of the 2023 United State Women's Disc Golf Championships.
The Regulator course is already tough to begin with, and playing through cold, wet conditions made the course play multiple strokes harder than the day before. After a difficult day and a dramatic finish for the lead card on hole 18, the leaderboard once again has a familiar name sitting on top.
Kristin Tattar not only shot the hot round of the day at 6-under, but also matched the hot round of the tournament set in the opening round's better conditions. After feeling frustrated with her performance in the first two rounds, Tattar was able to put it all together in Round 3, hitting her gaps through the woods to finish with 78% C2 in Regulation. Tattar capitalized on many of these opportunities, making clutch putts and finishing the round with 5.42 strokes gained putting.
This unofficially 1018-rated round is Tattar's first 1000-rated round for the 2023 USWDGC. After chasing down Henna Blomroos for two rounds, Tattar has gotten into the lead for the first time this tournament. Up until the opening round of the 2023 USWDGC, Tattar had an 18-round streak of leading the field at PDGA Majors dating back to Round 1 at the 2022 PDGA World Championships and she now has a two-stroke lead going into the final round.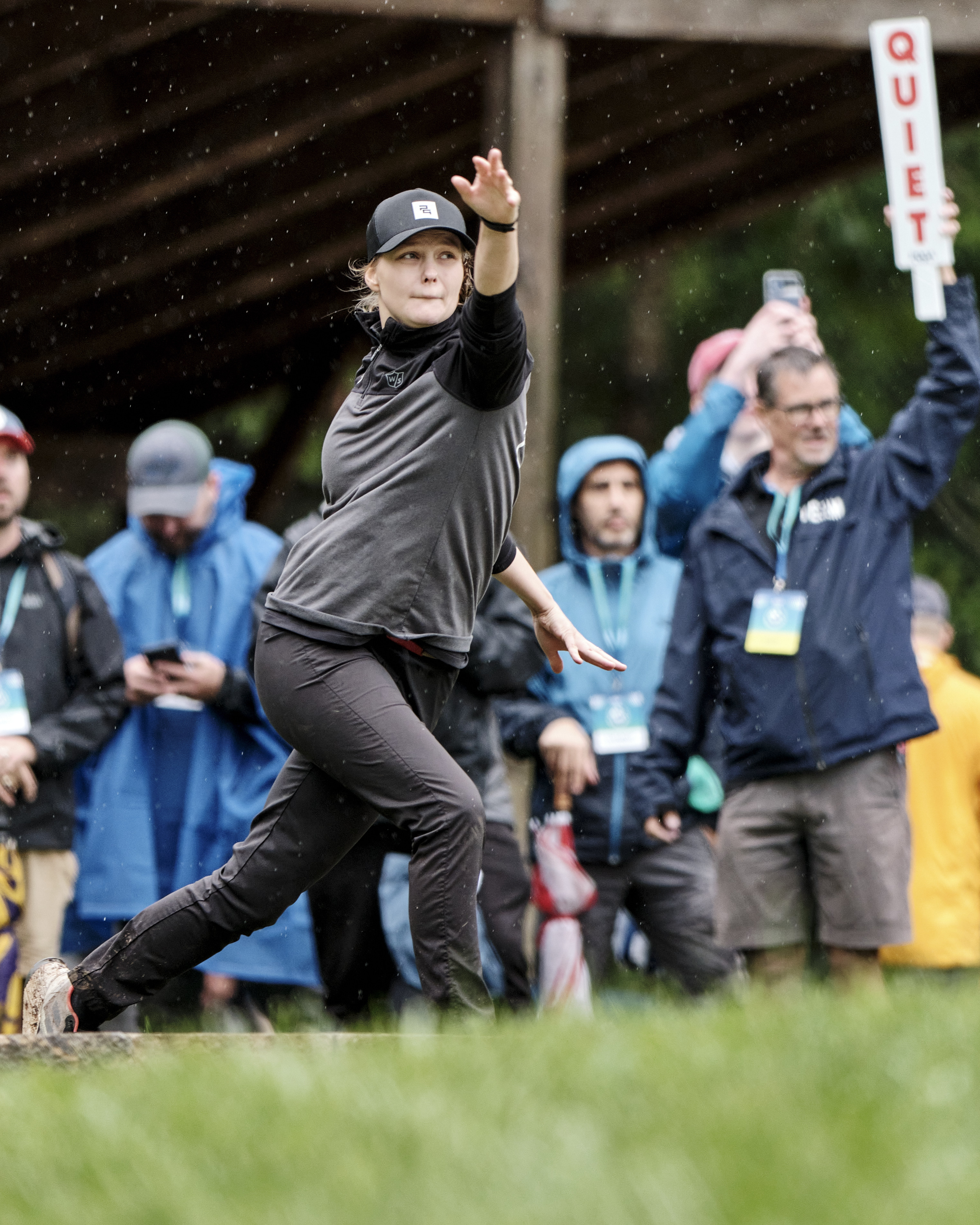 Blomroos seemed in control for most of the round, shooting six birdies while keeping her scorecard clean. Even when she found herself off the fairway, Blomroos was able to successfully scramble six times to avoid taking a bogey while Tattar was in pursuit. Blomroos seemed set to maintain her lead but then disaster struck on hole 18.
After watching her card mates throw solid tee shots, Blomroos' drive hit the first available tree and rolled into the rough right off the tee. A couple of scramble shots later, Blomroos compounded her problems by losing focus and accidentally playing from an incorrect lie. Clearly flustered, Blomroos ended up throwing her sixth shot before any of her card mates had thrown their second. Blomroos would go on to take a quadruple bogey and suffer a four-stroke swing.
Fortunately, Blomroos has played so well this weekend that she's only two strokes back of Tattar going into the final round. With Ohn Scoggins sitting four strokes back in third place, it seems like the final round could turn into a battle between Tattar and Blomroos. While Blomroos is looking for her first Major win, Tattar is just one hot round away from winning her fourth Major of the year and becoming the first FPO player to sweep the Majors in a year with four Majors.
It could all come down to the final hole as the FPO field takes on the Regulator course one last time in the final round of the 2023 United States Women's Disc Golf Championships.