Title Defended
2023 PDGA Pro Worlds Final FPO Recap
Monday, September 4, 2023 – 09:23
After five rounds at two very different courses, fighting through the wind and the rain against the best players in the world, Kristin Tattar has emerged victorious at the 2023 PDGA Professional Disc Golf World Championships presented by L.L.Bean.
Now with back-to-back victories at the World Championships, Tattar is the 10th FPO player with multiple World titles and the first back-to-back FPO Worlds Champion since Valarie Jenkins in 2009.
In a performance reminiscent of her victories at the PDGA Champions Cup and the European Open earlier this year, Tattar got the early lead and never let go. This time, however, Tattar's lead was challenged as Missy Gannon charged ahead, getting within one stroke during the fourth round. As they left the field behind, the final rounds turned into a duel for the win between Gannon and Tattar.
"It's great to be in that sort of a battle," Tattar said after winning her second World title, "It's exciting to win against a player who is playing their best golf and I feel like Missy was really playing some of her best golf. She didn't miss any putts and she hit all the fairways and was just playing amazing. It's a big honor to play against her and to actually win."
Tattar and Gannon battled through the final round at Fox Run Meadows, trading strokes as they picked up birdies. Gannon ended up taking some costly bogeys that left Tattar with an eight-stroke lead going into the final hole, allowing Tattar to take a double bogey and still win with a commanding lead.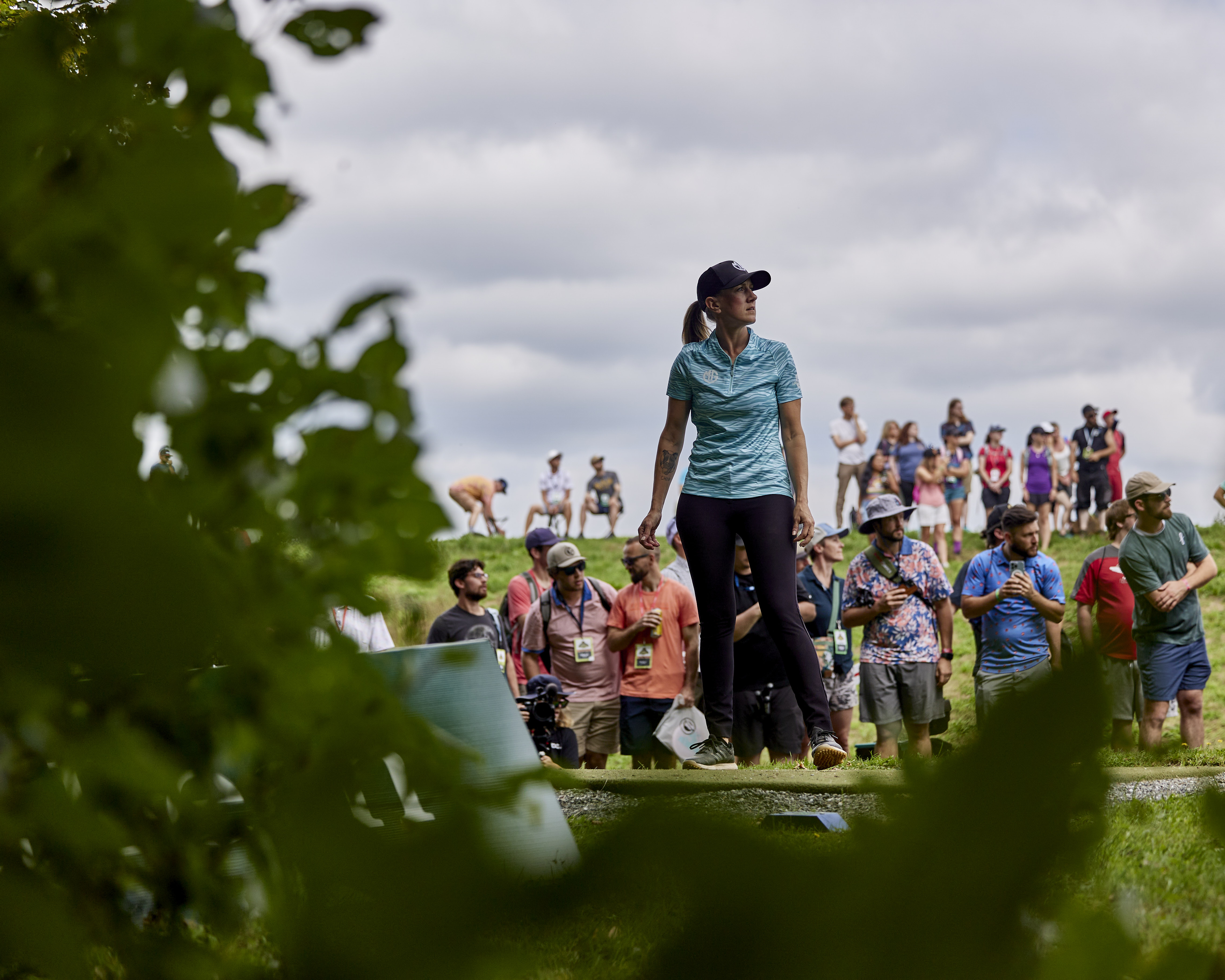 When asked about her experience battling for the lead, Gannon said, "It was pretty surreal and intense, but those are the moments that we live for and that's why we play this game."
Gannon's 2nd place finish is her best performance at the World Championships and her second podium finish at a Major after finishing 3rd at the 2023 European Open.
Gannon made more birdies over the course of five rounds, but Tattar was able to stay ahead by limiting her mistakes and taking only six bogeys and one double bogey throughout the tournament. Finishing with 31.61 strokes gained tee to green, Tattar consistently gave herself birdie looks while simultaneously avoiding giving back too many strokes.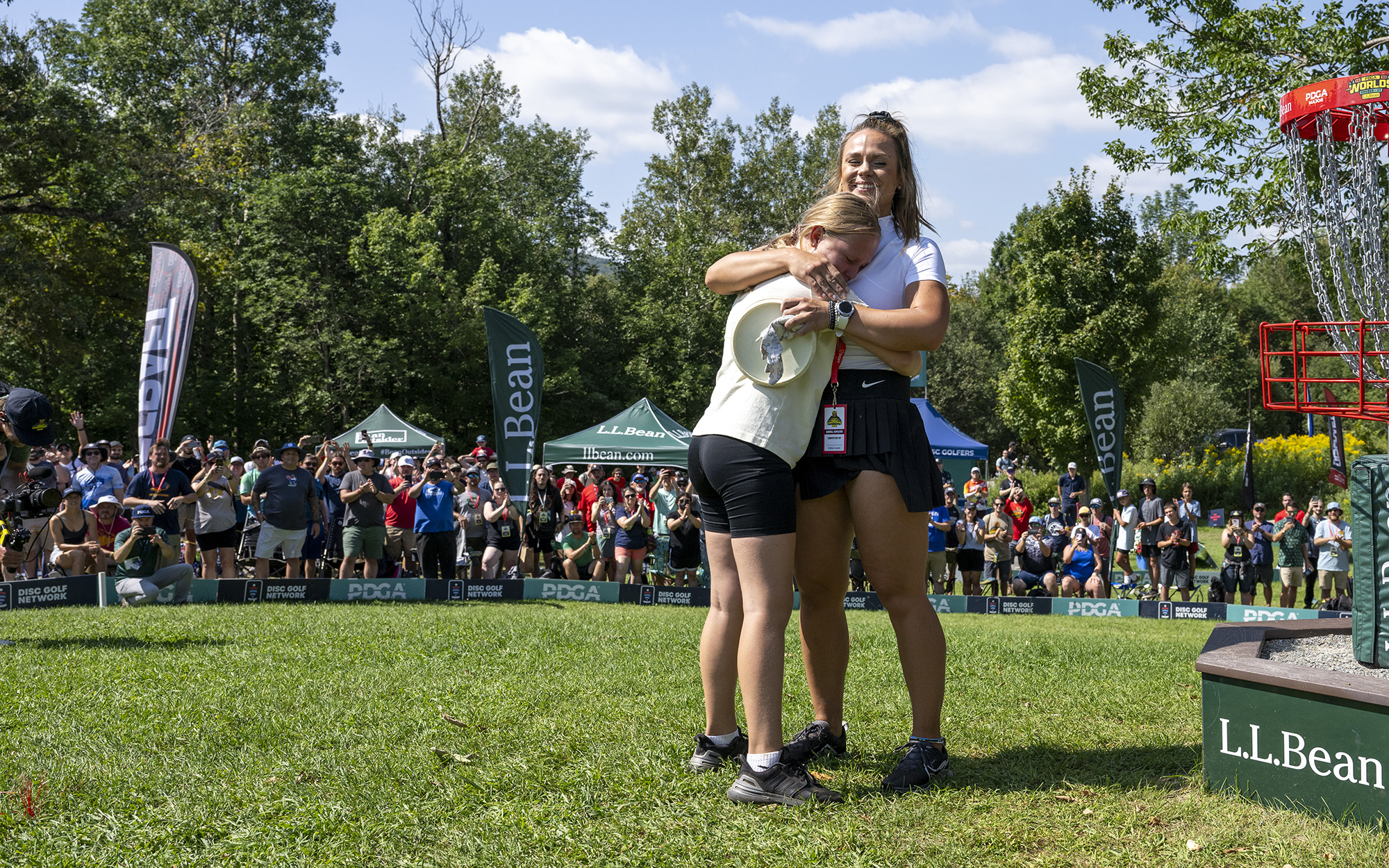 Tattar now joins Elaine King and Julianna Korver as the only FPO players to win four Major victories in a row, made more impressive by the fact that Tattar is the first player to do so in the last 20 years. After having won all three Majors so far this year, a victory at the United States Women's Disc Golf Championships would make Tattar the first FPO player to sweep the Majors in a single season (in a season with at least four Majors).
"I feel like I'm very lucky to have found my passion and I don't think every person finds it in their lifetime. But I actually found something I'm in love with and that passion fuels my fire on the course," Tattar said just minutes after tapping in the winning putt.
In just 10 days, the DGPT will return to Leicester, MA for the final playoff event at the 2023 MVP Open presented by OTB.