2023 DGPT – Discraft Great Lakes Open Rd 2 Recap
Saturday, August 19, 2023 – 09:41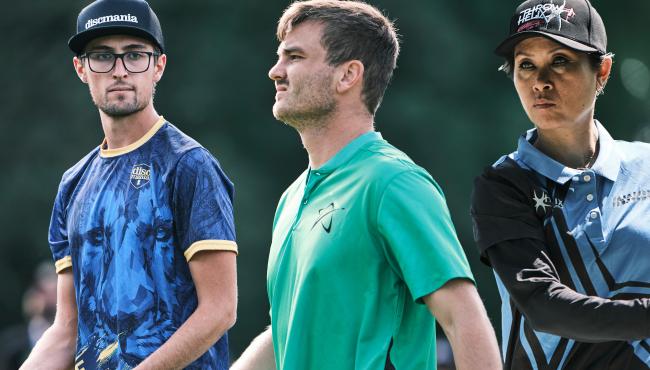 Although the windy conditions made for a challenging day in the second round of the 2023 Discraft Great Lakes Open, both the FPO and MPO fields finished with the same leaders as the day before.
Scoggins on the Toboggan
The FPO division fought through swirling winds as they made their way through the Toboggan course on day 2 of the 2023 Discraft Great Lakes Open. The combination of unpredictable winds, drastic elevation changes, and tight OB lines made for some colorful scorecards as every player took at least one bogey. Holes 1 and 9 still have yet to see a single birdie in the tournament, even with hole 1's basket moved to an alternate position in the second round.
Even with the challenge, the course provides plenty of opportunities to score and Ohn Scoggins finished with a seven-under hot round for the second day in a row. Scoggins has now doubled her lead to six strokes over 2nd place. Just like in round 1, Scoggins made all of her circle 1 putts and only had one OB stroke.
When asked about her gameplan to play through the harsh conditions, Scoggins said, "I just throw something super overstable, something I know is going to come back, and trust my disc."
With the highest birdie rate (47%), highest scramble rate (71%), and only two OB strokes, Scoggins is playing aggressive enough to score, but smart enough to avoid giving too many strokes back. Scoggins now has four straight hot rounds including rounds 2 and 3 at the LWS Open at Idlewild just last weekend and she shows no signs of slowing down going into the final two rounds at DGLO.
"Don't let anybody change your game when you already set your mind."
Ella Hansen and Holyn Handley both shot six-under on Friday to jump up to 2nd and 3rd place, respectively. Hansen played a consistent round, successfully scrambling six times until getting her only bogey of the round on hole 18. Handley had more of a rollercoaster round with an eagle, a double bogey, and only six pars on the day.
"Almost every hole you're at the teebox and you think the wind's doing one thing, it's doing something completely different in the middle, and then something different at the pin," Handley said of dealing with the swirling wind.
Although Handley lost some strokes to the unpredictable conditions, she led the field with a 22% parked percentage and had the only eagle of the day for the entire FPO division.
Handley and Hansen have their work cut out for them as they attempt to catch up to Scoggins' pace in the third round of the 2023 Discraft Great Lakes Open.
McMahon and Jones Stay on Top
Just like the FPO division, the early leaders in the MPO field stayed on top after the second round of the 2023 Discraft Great Lakes Open. Kevin Jones and Eagle McMahon both scored six-under to remain tied for the lead at 14 strokes under par. While Jones took his first and only bogey of the tournament on hole 2, McMahon was able to keep his scorecard clean and finish as one of only two players to go bogey-free on Friday.
Fighting through the swirling winds, McMahon had to scramble multiple times throughout the round, including two par saves from circle 2 after going out of bounds. McMahon's only miss inside the circle came on hole 18 and he made four circle two putts to finish with a 50% C2 putting percentage.
When asked if he changes his putting stroke to accommodate for the wind, McMahon said, "I try not to adjust it at all, actually. I tell myself 'Just putt it normal,' and a lot of the time it usually works better."
The tighter OB lines of the newly redesigned Toboggan course have proved especially difficult in the unpredictable winds but McMahon has managed to maintain a 91% scramble rate and 10.50 strokes gained tee to green over the course of two rounds. While we're used to seeing double-digit rounds at the top of the MPO leaderboard, this course hasn't been giving up a lot of birdies, instead challenging players to balance aggression with control.
When asked about the redesigned course, McMahon said, "A lot of the changes I think are great for the evolution of disc golf. There are a few that aren't my favorite but I still think it's Toboggan at its core and Toboggan is a top ten course for me so I really enjoy being out here."
Both Chris Dickerson and Anthony Barela climbed up the leaderboard in round 2, finishing in a tie for 2nd place at 12 strokes under par. Barela shot the hot round of the day at nine-under to jump up 13 places. After going out of bounds on hole 16 and taking his only bogey of the round, Barela bounced back as he made back-to-back circle 2 putts to take birdies on holes 17 and 18.
"Hole 16 is just a toss-up; I mean I missed my line by one foot and then the vines just dropped it straight down," Barela said of taking his only OB stroke of the round off the tee of hole 16, "I threw a great second shot on 17 to give myself a 40-footer and made the putt and then I pretty much played hole 18 perfectly."
Barela has come close to victory on the tour plenty of times, having recently taken a heart-braking loss in the last few holes at the European Open. Now as he joins the lead card just two strokes back of Jones and McMahon, Barela will have two more rounds to finish strong and take down his first Elite Series win at the 2023 Discraft Great Lakes Open.